Back

Stickers

Stickers

Window stickers

Vehicle stickers

Paper Stickers

Magnet

Posters

Folded Posters

Fluorescent Posters

Small Posters

Large Posters

Urban posters

Hanging posters

Creative paper posters

Brochures

Piqué

Brochure piqûre bouclette

Bonded square back brochure

Wireo brochure

Folded brochure

Book

Cards

Business card

Postal card

Note cards

Greetings cards

Folded cards

Game cards

Folded leaflets

4 panels fold

Z fold

10 panels fold

12 panels fold

8 panels fold

14 panels folds

Folds combined

Flyers

Flyers

High-end flyers

Bookmark

Hanger flyer

Ballot

Stationery

Diaries

Notepad

Calendar

Folder with flaps

Binder

Letterhead

Reams paper

Signage

Correx®

Tarpaulin

Carboard

Dibond®

Foamex

Plexiglas®

POS

Beach flag

Lettering

Office (Coming soon)

Flag

Ground

Suitcase

Display unit

Goodies

Drinkware

Luggage

Office & writting

Business gift

Electro & USB

Goodies

Tote bag

Clothing

Accessories

Shirts

Pants

Polos

Sweaters

Sweatshirts

T-shirt

Jackets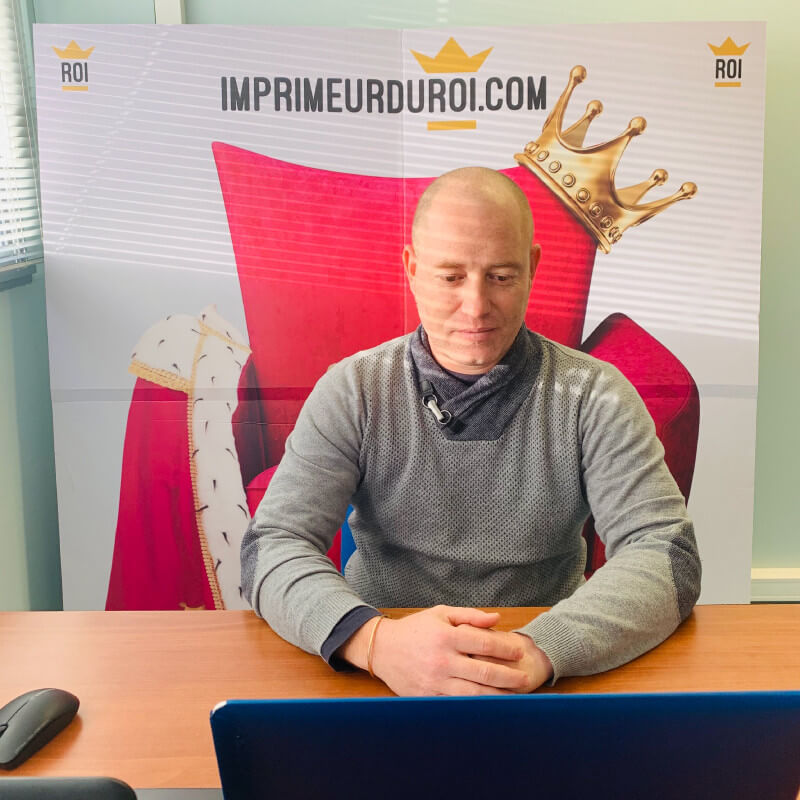  
Description
 > 
Take care of your personal branding in the age of videoconferencing!
Boost your personal branding during your webinars, your remote meetings, and your videoconferences with your customers, by displaying in the background your brand image printed on Micro-bis 3mm honeycomb cardboard.
It is regularly used as a corporate photo background because it enhances the professionalism of the person using it.
Thus, companies concerned with the digital appearance of their employees can develop their brand image.
The special telework display board is visible in the background as an economical decoration panel for your remote video appointments.
 > 
How are your special videoconferencing backgrounds printed!
Easy and quick to set up, five seconds is the time it takes for the interlocutor to deploy their cardboard background, and make a good impression in video conferencing.
Printing on Micro-bis 3mm honeycomb cardboard offers the advantage of having a light and recyclable support.
On the back, you will find 2 Cardboard Easels allowing it to remain upright.
Creasing on the panel makes your background foldable, for easy storage with the smallest footprint.
Quantity : On demand
Material : Carton Micro-bis EE couché 1 face blanc mat 3mm
Printing size : 158 x 160 cm
Printing process : UV Digital
Finishing process : Creasing, cutting and gluing

Deadlines: 5 to 7 open days after proof validation
Origin: Printed in France
 > 

How to design your print ready PDF files?

Dowload dowstair our template to to adapt your graphics.
Our prepress services ensure, free of charge, that the .PDF files transmitted correspond perfectly to the order placed and adapted to our production tools.
Give a name to your printing project
Videoconference background
Instant quote calculation for cardboard display Teleworking printing, please wait.