Back

Stickers

Stickers

Window stickers

Vehicle stickers

Paper Stickers

Magnet

Posters

Folded Posters

Fluorescent Posters

Small Posters

Large Posters

Urban posters

Hanging posters

Creative paper posters

Brochures

Piqué

Brochure piqûre bouclette

Bonded square back brochure

Wireo brochure

Folded brochure

Book

Cards

Business card

Postal card

Note cards

Greetings cards

Folded cards

Game cards

Plastic Cards

Folded leaflets

4 panels fold

Z fold

10 panels fold

12 panels fold

8 panels fold

14 panels folds

Folds combined

Flyers

Flyers

High-end flyers

Bookmark

Hanger flyer

Ballot

Stationery

Diaries

Notepad

Calendar

Folder with flaps

Binder

Letterhead

Reams paper

Envelopes

DL envelopes

C6 Envelopes

C5 Envelopes

C4 Envelopes

Square Envelopes

B5 and B6 Envelopes

B4 and E4 Envelopes

Signage

Correx®

Tarpaulin

Carboard

Dibond®

Foamex

Plexiglas®

POS

Beach flag

Lettering

Office (Coming soon)

Flag

Ground

Suitcase

Display unit

Goodies

Drinkware

Luggage

Office & writting

Business gift

Electro & USB

Goodies

Tote bag

Clothing

Accessories

Shirts

Pants

Polos

Sweaters

Sweatshirts

T-shirt

Jackets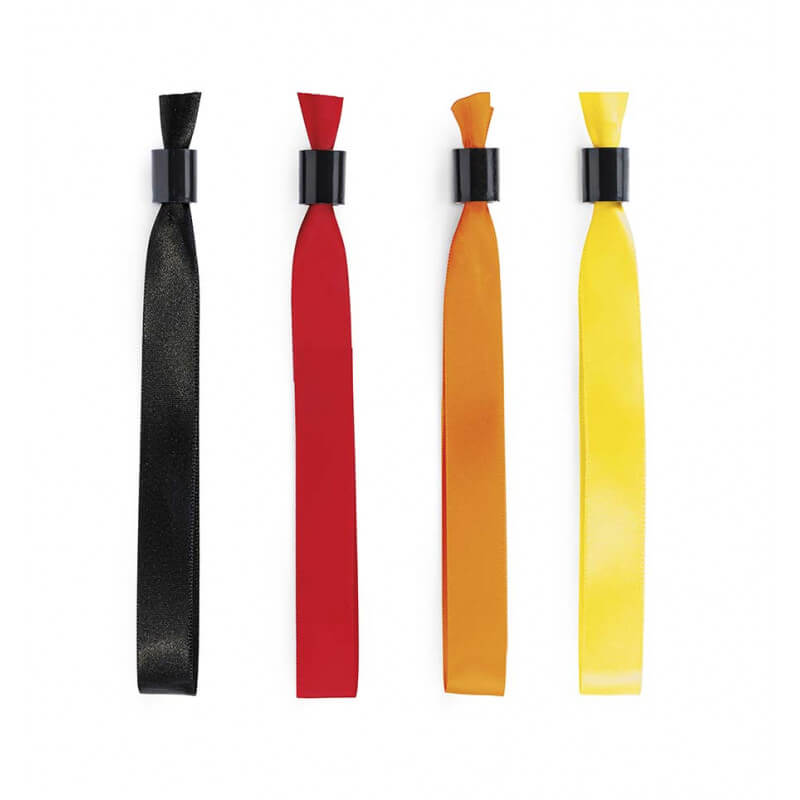  
Data sheet
Goodies

wristbands
Description
>
The personalized tamper-proof event wristbands at the best price!
For your sporting events, trade shows, music festivals, concerts, as well as for establishments receiving the public, effectively control all entrances and exits thanks to the personalized tamper-proof satin wristbands.
This personalized identification bracelet is an ideal cheap promotional item and very useful in all gatherings where people must be identified.
Made of tamper-proof satin with a sliding security closure, once put on, it will never leave your wrist.
This cheap satin bracelet is available in a wide range of colors to allow you to choose the one that will best suit your image.
>
How to order advertising on tamper-proof event wristbands ?
The global quantity of bracelet to inform in the tabs of color is of 25 specimens minimum.
Then select the marking process to define the number of colors corresponding to your personalization.
Colours : Yellow, Orange, Black, Red, Pink, Green, White, Blue
Dimension : 320 x 15 mm
Material : Polyester
Marking process : Screen printing, Transfert
Position : Front
Printing area : 200 x 10 mm
Deadlines: 15 to 20 open days
Origin: Printed in Europe
>
How to send your files to personalized your tamper-proof event wristbands?
The files that you will send us after validation of your order will be saved in ".PDF or .AI or .PNG" to ensure the personalisation of 1 to 4 colours on the front side (20 cm x 1cm) of your personalised tamper-proof satin wristbands.
Our prepress services ensure free of charge that the files sent with your order correspond perfectly to the order placed and are adapted to our production tools.
Tamper-proof satin wristbands
Get your quote by filling in your quantity per color and select your marking process to order your personalized imprint on Tamper-proof satin wristbands, 25 pieces minimum.