Back

Stickers

Stickers

Window stickers

Vehicle stickers

Paper Stickers

Magnet

Posters

Folded Posters

Fluorescent Posters

Small Posters

Large Posters

Urban posters

Hanging posters

Creative paper posters

Brochures

Piqué

Brochure piqûre bouclette

Bonded square back brochure

Wireo brochure

Folded brochure

Book

Cards

Business card

Postal card

Note cards

Greetings cards

Folded cards

Game cards

Folded leaflets

4 panels fold

6 panels fold

10 panels fold

12 panels fold

8 panels fold

14 panels folds

Folds combined

Flyers

Flyers

High-end flyers

Bookmark

Hanger flyer

Ballot

Stationery

Letterhead

Folder with flaps

Notepad

Reams paper

Calendar

Binder

Signage

Tarpaulin

Dibond®

Plexiglas®

Correx®

Foamex

Carboard

POS

Office (Coming soon)

Flag

Beach flag

Ground

Lettering

Suitcase

Goodies

Drinkware

Electro & USB

Office & writting

Business gift

Goodies

Luggage

Clothing

Pants

Jackets

Sweaters

Shirts

Polos

Sweatshirts

T-shirt

Accessories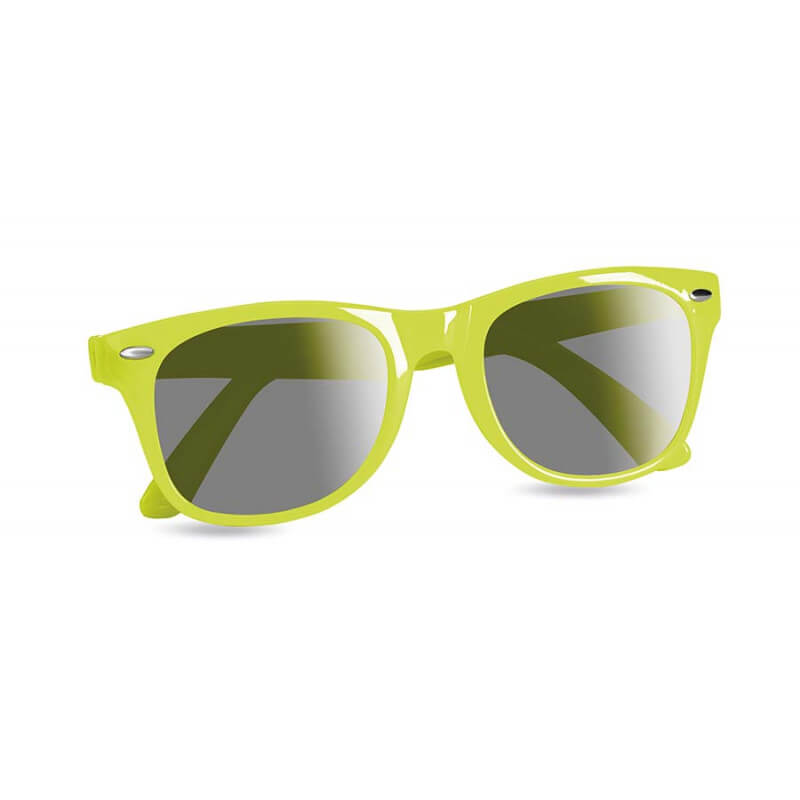  
Data sheet
Goodies

Accessories
Description
Colored anti UV sunglasses to customize!
Display your brand through these classic and elegant sunglasses designed with UV400 protection lenses.
These brightly colored sunglasses with your company logo on them will be in everyone's taste with very good value for money.
The fashionable frame of this model offers enough space for your advertising message which will then be associated with sunny days.
The glasses are quite wide and particularly suitable for people with larger heads.
How to define your marking on UV protect sunglasses?
The sunglasses are available in red, white, blue, black, orange, lime, fuschia and yellow.
The total quantity to enter in the color tab is 25 copies minimum whatever the printing process.
Its marking area is offered on the 2 branches.
Size: 14 x 4.6 x 14 cm
Weight: 31gr
Material: Plastic

Doming: 1 to 8 colors 80mm x 8mm
Pad printing: 1 to 4 colors format 80mm x 8mm
File to provide: .PDF vectorized or .AI

Deadlines: 15 to 20 working days
Origin: Printed in Europe

Protect UV sunglasses
Select your quantity and the marking process to order the personalized printing of your logo on sunglasses protect UV400, 25 copies minimum.