Back

Stickers

Stickers

Window stickers

Vehicle stickers

Paper Stickers

Magnet

Posters

Folded Posters

Fluorescent Posters

Small Posters

Large Posters

Urban posters

Hanging posters

Creative paper posters

Brochures

Piqué

Brochure piqûre bouclette

Bonded square back brochure

Wireo brochure

Folded brochure

Book

Cards

Business card

Postal card

Note cards

Greetings cards

Folded cards

Game cards

Plastic Cards

Folded leaflets

4 panels fold

Z fold

10 panels fold

12 panels fold

8 panels fold

14 panels folds

Folds combined

Flyers

Flyers

High-end flyers

Bookmark

Hanger flyer

Ballot

Stationery

Diaries

Notepad

Calendar

Folder with flaps

Binder

Letterhead

Reams paper

Envelopes

DL envelopes

C6 Envelopes

C5 Envelopes

C4 Envelopes

Square Envelopes

B5 and B6 Envelopes

B4 and E4 Envelopes

Signage

Correx®

Tarpaulin

Carboard

Dibond®

Foamex

Plexiglas®

POS

Beach flag

Lettering

Office (Coming soon)

Flag

Ground

Suitcase

Display unit

Goodies

Drinkware

Luggage

Office & writting

Business gift

Electro & USB

Goodies

Tote bag

Clothing

Accessories

Shirts

Pants

Polos

Sweaters

Sweatshirts

T-shirt

Jackets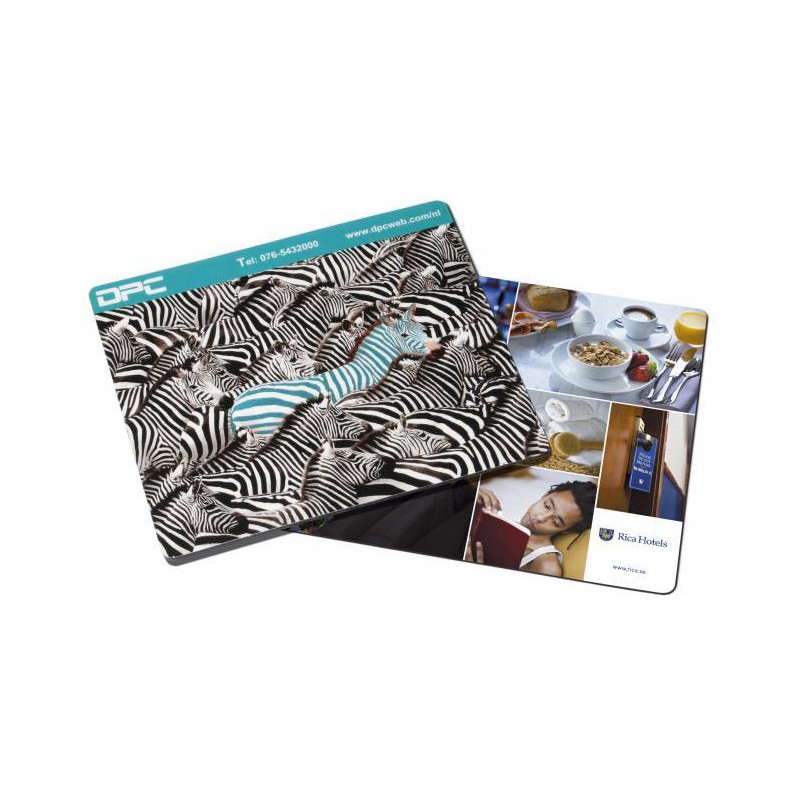  
Data sheet
Office & Writing

Mouse pad
Description
> 
Why choose the best selling mouse pad in Europe?
HardTop is the best original mouse pad for optical or laser mice, the most sold in Europe.
Surveys show that mouse pads are one of the top 5 promotional items, providing an exceptional cost-benefit, premium advertising space - right in front of you, all day long.
This mat has a non-slip foam base, will not move and will last almost indefinitely.
This product is treated with AntiBug®, a patented and fully certified anti-bacterial treatment that will protect your customers or employees from all types of harmful bacteria.
Its personalized marking of your logo or your graphics in quadrichromy will make it the advertising object with your colors.
>
How to customize the Mouse pad with AntiBug® treatment
Neutral color, enter your quantity and select four-color sublimation.
Your personalized microfiber mouse pad printing quote, including shipping, will be displayed once you have completed all of these elements.
Give your project a title and generate a quote from your account or add to cart.
Dimensions : 23.5 x 20 cm
Material : Microfibre, Polyester
Weight : 254 gr
Deadlines: 15 to 20 open days
Origin: Printed in France
>
How to send your files to customize your Mouse pad with AntiBug® treatment?
LThe file you send us will be saved in ".AI" or ".PDF" or ".EPS", vectorial or "vectorized" in CMYK to ensure the personalization of your Mouse pad with AntiBug® treatment. Our prepress services make sure that the files sent with your order correspond perfectly to the order placed and are adapted to our production tools.
Mouse pad with AntiBug® treatment
Fill in the quantity to order the personalized color printing and marking of your logo on Mouse Pad with AntiBug® treatment from 100 copies.