Back

Stickers

Stickers

Window stickers

Vehicle stickers

Paper Stickers

Magnet

Posters

Folded Posters

Fluorescent Posters

Small Posters

Large Posters

Urban posters

Hanging posters

Creative paper posters

Brochures

Piqué

Brochure piqûre bouclette

Bonded square back brochure

Wireo brochure

Folded brochure

Book

Cards

Business card

Postal card

Note cards

Greetings cards

Folded cards

Game cards

Folded leaflets

4 panels fold

Z fold

10 panels fold

12 panels fold

8 panels fold

14 panels folds

Folds combined

Flyers

Flyers

High-end flyers

Bookmark

Hanger flyer

Ballot

Stationery

Diaries

Notepad

Calendar

Folder with flaps

Binder

Letterhead

Reams paper

Signage

Correx®

Tarpaulin

Carboard

Dibond®

Foamex

Plexiglas®

POS

Beach flag

Lettering

Office (Coming soon)

Flag

Ground

Suitcase

Display unit

Goodies

Drinkware

Luggage

Office & writting

Business gift

Electro & USB

Goodies

Tote bag

Clothing

Accessories

Shirts

Pants

Polos

Sweaters

Sweatshirts

T-shirt

Jackets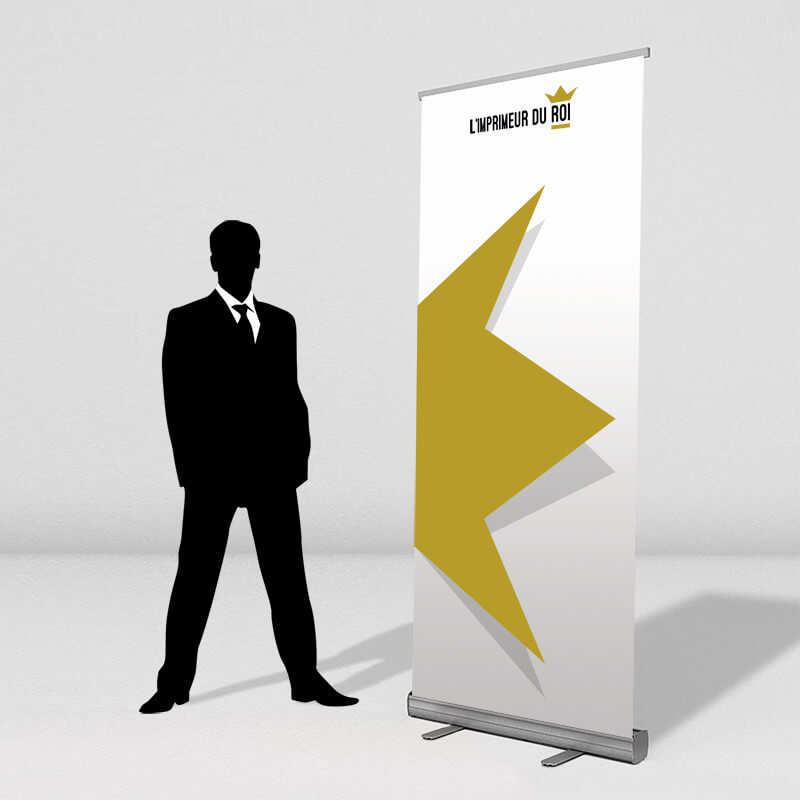  
#rollup #rollerbanners #85x200
Data sheet
Flexible

Front Tarpaulin
Description
 > 
The classic roll-up banner and advertising display stand!
The roll-up, totem or mobil display stand is an essential, affordable and cheap communication vector.
Suitable for businesses, associations, tourism professionals and merchants, it offers a striking visual inside and out to represent you during a marketing and communication campaign, as a POS to make themselves visible and known.
The mobile stand to customize, with its aluminum frame, is easily transportable and very simple to install on a stand, a show or at an event.
 > 
How to order the printing of your 85x200 cm roll-up at the best price?
Set up the roll-up online printing in 85x200 cm size by browsing your quantity and your delivery point.
Use the Additional Templates tab to print other roll-up templates in identical or different quantities.
Size : 85 x 200 cm
Process: High definition digital printing
Support: Tarpaulin P.V.C. 350gr normed M1 fireproof
Printing: CMYK one side
Structure: Aluminum winder
Accessories: Padded bag included
Production time: 3 to 5 days
Origin: printed in Europe
 > 
How to make a PDF print ready for roll-up banner stand?

Check out our advice page for well creating your .PDF files to be sent after payment to order the roll-up banner 85x200 cm custom printing. Download below the roll-up template 85x200 cm format in .pdf, photoshop or illustrator in order to respect the finished size, the bleeds and the comfort zones.
Give a name to your printing project
Roller Banner 85x200 cm
We quote the best price for your Roller Banner 85x200 cm printing. The calculation can take several seconds.