Back

Stickers

Stickers

Window stickers

Vehicle stickers

Paper Stickers

Magnet

Posters

Folded Posters

Fluorescent Posters

Small Posters

Large Posters

Urban posters

Hanging posters

Creative paper posters

Brochures

Piqué

Brochure piqûre bouclette

Bonded square back brochure

Wireo brochure

Folded brochure

Book

Cards

Business card

Postal card

Note cards

Greetings cards

Folded cards

Game cards

Plastic Cards

Folded leaflets

4 panels fold

Z fold

10 panels fold

12 panels fold

8 panels fold

14 panels folds

Folds combined

Flyers

Flyers

High-end flyers

Bookmark

Hanger flyer

Ballot

Stationery

Diaries

Notepad

Calendar

Folder with flaps

Binder

Letterhead

Reams paper

Envelopes

DL envelopes

C6 Envelopes

C5 Envelopes

C4 Envelopes

Square Envelopes

B5 and B6 Envelopes

B4 and E4 Envelopes

Signage

Correx®

Tarpaulin

Carboard

Dibond®

Foamex

Plexiglas®

POS

Beach flag

Lettering

Office (Coming soon)

Flag

Ground

Suitcase

Display unit

Goodies

Drinkware

Luggage

Office & writting

Business gift

Electro & USB

Goodies

Tote bag

Clothing

Accessories

Shirts

Pants

Polos

Sweaters

Sweatshirts

T-shirt

Jackets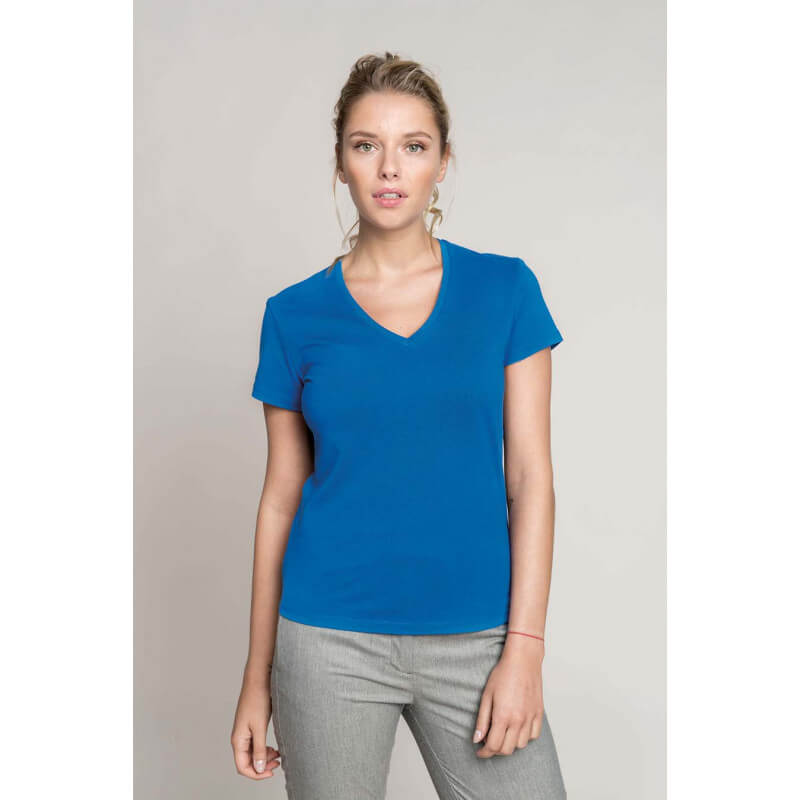  
Data sheet
Gender

Women

Fabric

Coton
Description
 > 
20 Shades of short sleeve V-neck woman t-shirt to customize!
Do the right choice by choosing this women 100% combed cotton 180g / m² T-shirt with enzyme wash to personalize the printing of your logo, your brand or your graphic design.
This very fashionable t-shirt for women has a fitted cut, as well as a oxford gray cleanliness band at the neckline (white for the white color, dark gray for the oxford gray color) ensures greater durability and better comfort. Double needle finish at the bottom of the sleeve and bottom of the garment.
A guarantee of quality, this woman's V-neck T-shirt is particularly soft and conducive to personalization.
The different sizes available allow everyone to enjoy this basic but essential t-shirt.
You can customize it to your taste and your needs.
 > 
How to order the print on Women's V-Neck T-Shirt
The women's short-sleeved V-neck t-shirt is available in 20 shades of uniform colors.
Make your choice among the tones Black (Noir), White (Blanc), Yellow (Jaune), Orange, Navy Blue (Bleu Marine), Fuschia, Purple (Violet), Red (Rouge), Wine (Vin), Tropical Blue (Bleu Tropical), Lime (citron vert), Kelly Green (Vert Kelly), Chocolate (Chocolat), Sky Blue (Bleu Ciel), Dark Gray (Gris foncé), Forest Green (Vert foret), Dark Khaki (kaki foncé), Royal Blue (Bleu roi clair), Oxford Gray (Gris Oxford) and Light Sand (Sable Clair).

The minimum quantity to be entered in the tab of each color regardless of size is 10ex for embroidery or 25ex for screen printing 1 to 4 colors.
Select one or more marking areas among the 6 offered and enter your delivery area.
Playing with quantities, sizes, and marking areas will allow you to get the best price for ordering the personalized printing on this short-sleeved V-neck women's t-shirt.
Deadlines: 11 to 15 jopen days.
 > 
How to make a PDF print ready for Women's Tee-shirt?

Check out our advice pages to make your .PDF files ready to be sent with your order to print on this Women's V-neck T-shirt
Women's V-neck T-shirt
Fill in your quantities by color and size to order custom printing on Women's V-neck T-shirt.