Back

Stickers

Stickers

Window stickers

Vehicle stickers

Paper Stickers

Magnet

Posters

Folded Posters

Fluorescent Posters

Small Posters

Large Posters

Urban posters

Hanging posters

Creative paper posters

Brochures

Piqué

Brochure piqûre bouclette

Bonded square back brochure

Wireo brochure

Folded brochure

Book

Cards

Business card

Postal card

Note cards

Greetings cards

Folded cards

Game cards

Plastic Cards

Folded leaflets

4 panels fold

Z fold

10 panels fold

12 panels fold

8 panels fold

14 panels folds

Folds combined

Flyers

Flyers

High-end flyers

Bookmark

Hanger flyer

Ballot

Stationery

Diaries

Notepad

Calendar

Folder with flaps

Binder

Letterhead

Reams paper

Envelopes

DL envelopes

C6 Envelopes

C5 Envelopes

C4 Envelopes

Square Envelopes

B5 and B6 Envelopes

B4 and E4 Envelopes

Signage

Correx®

Tarpaulin

Carboard

Dibond®

Foamex

Plexiglas®

POS

Beach flag

Lettering

Office (Coming soon)

Flag

Ground

Suitcase

Display unit

Goodies

Drinkware

Luggage

Office & writting

Business gift

Electro & USB

Goodies

Tote bag

Clothing

Accessories

Shirts

Pants

Polos

Sweaters

Sweatshirts

T-shirt

Jackets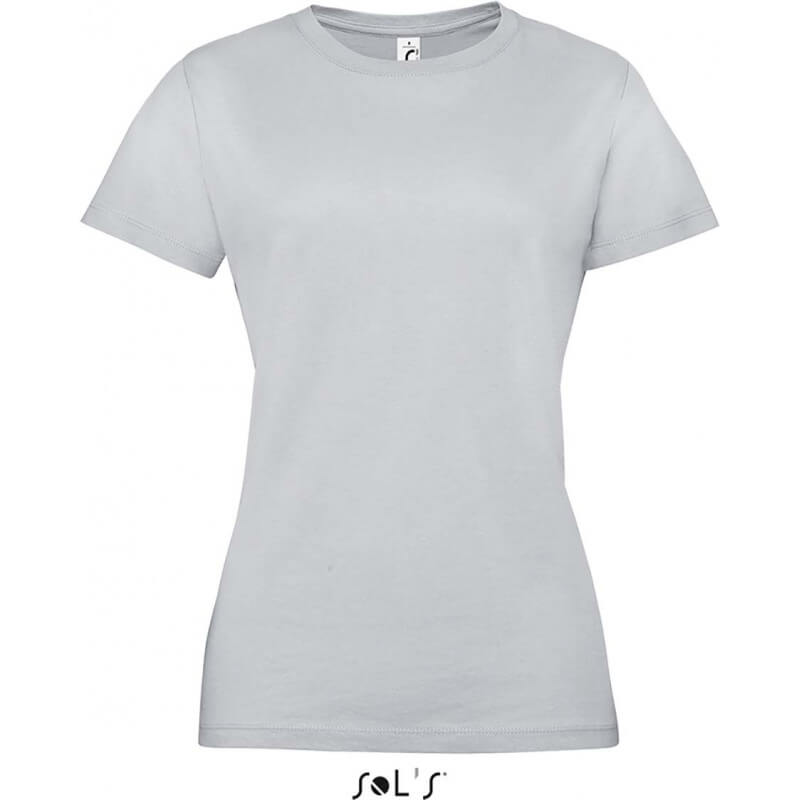  
Description
How order your women's t-shirts short-sleeved round-neck at the best price?
Do you want to print on t-shirts? Do you want to embroider or print 1 to 4 colors on women's T-shirts short sleeved? Do you want to communicate about an event, an association, a brand, a team and your creativity? The configurator for printing on women's t-shirt short sleeved round neck is made for you.
Order the advertising marking of your logo, of your creations on these T-shirt woman short sleeves and round neck jersey quality 150g / m², 100% semi-combed ringspun cotton with band of cleanliness in the collar, curved cut, tubular. Collar with ribbing. Cut and sewn. No brand label on the collar, only a size chip to facilitate personalization. 15 t-shirt colors for 7 sizes, 6 areas of embroidery or personalized printing markings..
How we print women's t-shirts short-sleeved round-neck?
The L'Imprimeur Du Roi offers you a multitude of possibilities to personalize your t-shirts to embroider or print.

Our models of short-sleeved round neck t-shirts for women are available in white, heather gray, yellow, navy blue, royal blue, lemon, french navy, heather white, orchid pink, denim, atoll blue, orange, apple green, dark gray, red, coral, bottle green, mouse gray, fuschia, prairie green, sky blue, dark purple, aqua blue, duck blue, burgundy, deep black, apricot and pure gray. These T-shirts are available in sizes S, M, L, XL and XXL. You have the choice of selecting 1 to several marking zones to personalize your regent short-sleeved round-neck women's T-shirt in your colors.
Quantity : On-demand from 10 copies.

PPrinting process : Embroiding & Screen Printing

Files to provide: vectorize .PDF
Deadlines: 11 to 15 open days

Delivery : Included
Origin: Printed in France

 + 

Artworks guidelines

Check out our guide for a good preparation of your .PDF files to send to your order to embroider or print on women's t-shirt short sleeve round neck.
Women's Regent T-shirt
Fill in the quantities by color, by size, the marking technique and its location to order printing on women's regent t-shirt short sleeve round-neck, minimum 10 copies.