Back

Stickers

Stickers

Window stickers

Vehicle stickers

Paper Stickers

Magnet

Posters

Folded Posters

Fluorescent Posters

Small Posters

Large Posters

Urban posters

Hanging posters

Creative paper posters

Brochures

Piqué

Brochure piqûre bouclette

Bonded square back brochure

Wireo brochure

Folded brochure

Book

Cards

Business card

Postal card

Note cards

Greetings cards

Folded cards

Game cards

Plastic Cards

Folded leaflets

4 panels fold

Z fold

10 panels fold

12 panels fold

8 panels fold

14 panels folds

Folds combined

Flyers

Flyers

High-end flyers

Bookmark

Hanger flyer

Ballot

Stationery

Diaries

Notepad

Calendar

Folder with flaps

Binder

Letterhead

Reams paper

Envelopes

DL envelopes

C6 Envelopes

C5 Envelopes

C4 Envelopes

Square Envelopes

B5 and B6 Envelopes

B4 and E4 Envelopes

Signage

Correx®

Tarpaulin

Carboard

Dibond®

Foamex

Plexiglas®

POS

Beach flag

Lettering

Office (Coming soon)

Flag

Ground

Suitcase

Display unit

Goodies

Drinkware

Luggage

Office & writting

Business gift

Electro & USB

Goodies

Tote bag

Clothing

Accessories

Shirts

Pants

Polos

Sweaters

Sweatshirts

T-shirt

Jackets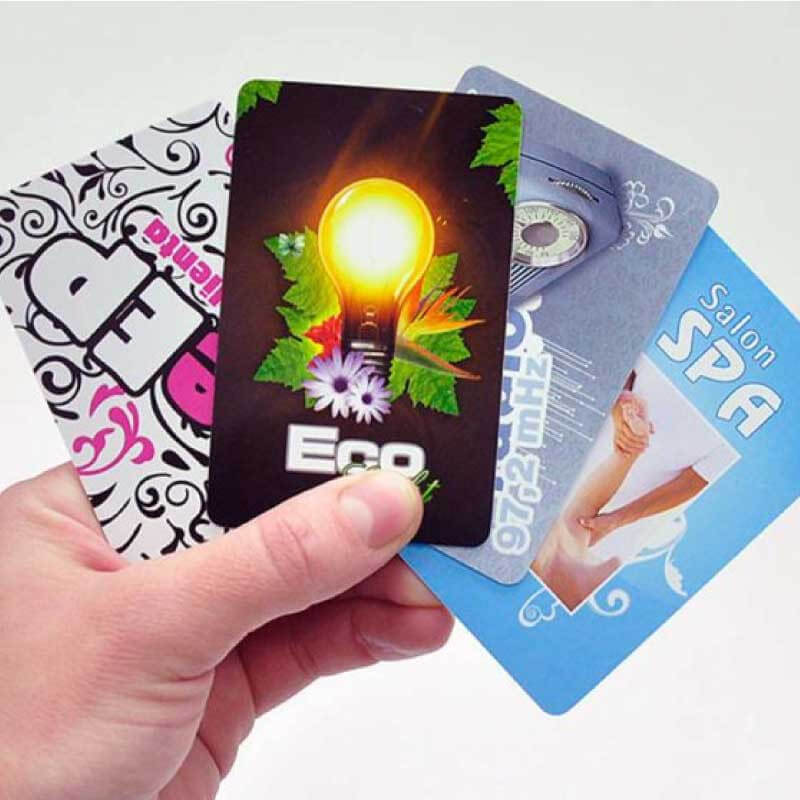  
Description
>
The PVC plastic business card printer!
Do you want to print plastic business cards like a bank card?
PVC business cards have that designer look that makes them more durable over time. Just as professional as regular business cards, PVC business cards are your best choice for making a lasting impression.
In addition to impressing your contact, the PVC business card is water resistant and more likely to be saved and remembered than a more traditional business card.
Moreover, it is difficult, if not impossible, to tear a plastic business card. The plastic business card is always in good condition.
>
How to send your files for printing?
The files you send us after validation of your order will be saved in ".PDF" to ensure the printing of your PVC cards.
Our prepress services ensure free of charge that the files sent with your order correspond perfectly to the order placed and are adapted to our production tools.
Download our templates below to take examples of our PVC business card templates to calibrate your design.
Give a name to your printing project
PVC Business Card
Get your instant quote for on-demand online printing of plastic PVC business cards.