Back

Stickers

Stickers

Window stickers

Vehicle stickers

Paper Stickers

Magnet

Posters

Folded Posters

Fluorescent Posters

Small Posters

Large Posters

Urban posters

Hanging posters

Creative paper posters

Brochures

Piqué

Brochure piqûre bouclette

Bonded square back brochure

Wireo brochure

Folded brochure

Book

Cards

Business card

Postal card

Note cards

Greetings cards

Folded cards

Game cards

Folded leaflets

4 panels fold

6 panels fold

10 panels fold

12 panels fold

8 panels fold

14 panels folds

Folds combined

Flyers

Flyers

High-end flyers

Bookmark

Hanger flyer

Ballot

Stationery

Letterhead

Folder with flaps

Notepad

Reams paper

Calendar

Binder

Signage

Tarpaulin

Dibond®

Plexiglas®

Correx®

Foamex

Carboard

POS

Office (Coming soon)

Flag

Beach flag

Ground

Lettering

Suitcase

Goodies

Drinkware

Electro & USB

Office & writting

Business gift

Goodies

Luggage

Clothing

Pants

Jackets

Sweaters

Shirts

Polos

Sweatshirts

T-shirt

Accessories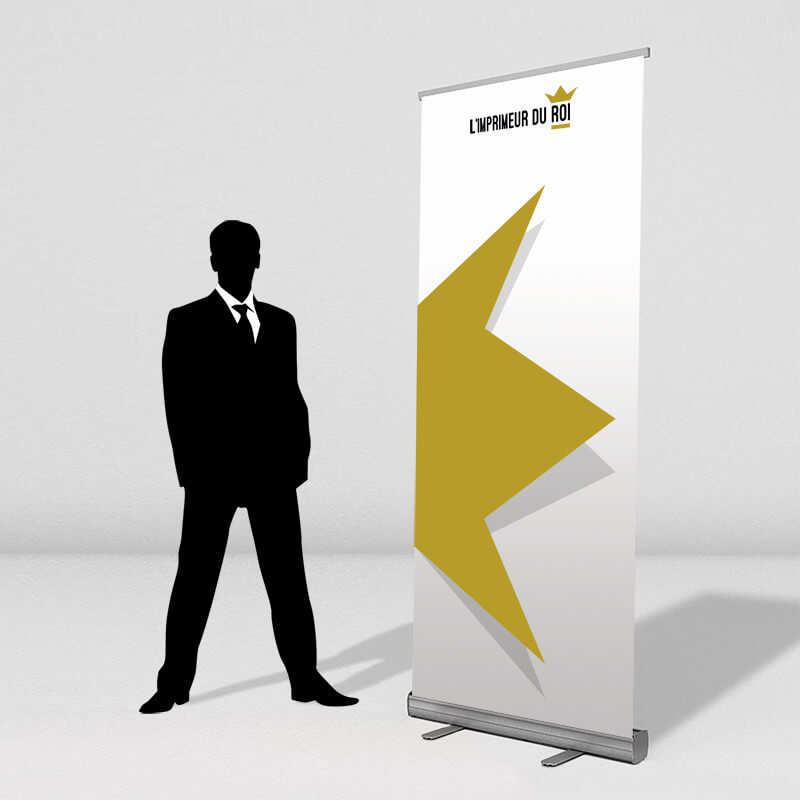  
#rollup #rollerbanners #85x200
Data sheet
Flexible

Front Tarpaulin
Description
Roller banner printing size 85x200 cm.
Configure your 85x200 pull up banner printing by filling in the quantity and the desired european delivery point.
The roll up, totem or pull up banner is an essential, affordable and cheap communication display. Suitable for companies, associations, tourism, shop, office, it offers a striking visual indoors and outdoors to represent your brand during a marketing and communication campaign, as POS to become known.
This long term and frequent use mobile device, with its aluminum frame, is easily transportable and very simple to install on a stand or during an event.
What are the characteristics of your 85x200 roll-up?
Size : 85 x 200 cm
Process: High definition digital printing
Support: Tarpaulin P.V.C. 350gr normed M1 fireproof
Printing: CMYK one side
Structure: Aluminum winder
Accessories: Padded bag included
Production time: 3 to 5 days
Origin: printed in Europe
 + 

Printing guide
Check out our printing guide for a good preparation of your graphic files for the printing of your 85x200 cm roller banner.
Give a name to your printing project
Roller Banner 85x200 cm
Instant quote calculation for economical Roller Banner 85x200 cm printing with free padded bag, please wait

You might also like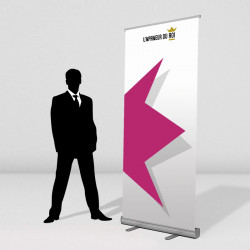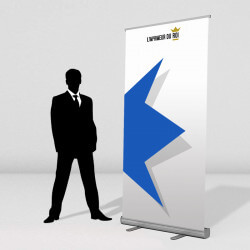 Price
€102.00
€73.50 10 ex