How to design and transmit your files to print on adhesive, paper, rigid or flexible media ?

Whether you want to print on adhesive (vinyl), paper (coated or uncoated), rigid media (Dibond, akilux, correx, plexiglass, cardboard), flexible media (tarpaulin, lino, carpet, pvc) before sending your .pdf file, please respect the 6 importants points for the 6 checkpoint related to the online printers business before transmitting your proof.
Once receive your orders, our teams will verify your print files to ensure that they match your configuration and can be processed without delay or errors.
NOTE: We are not required to proofread your documents and alert you to spelling errors.
FINISHED SIZE
The size (excluding bleed and cut lines) of your .pdf must match the size of the configured product.
Provide a quiet area: no logo, text or visually important elements within 5 mm of all edges of the support.
CMYK MODE
When creating your visuals it is imperative before even starting to switch your creation software to CMYK mode. Use the correct colorimetric mode in your models from the start by checking that the color profile selected during creation is CMYK (Cyan Magenta Yellow Black) and not RGB (Red Green Blue).
PICTURES RESOLUTION
For a high-resolution printing of your quadri colour images, it must be transformed into CMYK before being recorded. You have to check the 3 parameters to ensure that your image is of sufficient quality for a high resolution print: definition, size and resolution.
A high resolution is considered to range from 250 to 300 DPI. We can go down to 200 DPI for a gray level image. However, anything below this value will not be suitable for high quality printing.
For large format (more than 70x100cm) a resolution of 150 DPI is sufficient.
FONT VECTORIZATION
Files are to be transmitted in vectorized and flattened PDF format. If your file font is not "vectorized", your text will be replaced on our computers by a proxy font. And your creation will not be respected…
BLEED AND CROP MARKS
Your file must be configured with the corresponding crop marks in the ordered format (scale files will not be accepted). Crop marks show where your document wille be trimmed.
In addition, your file must always contain a lost background of at least 5mm bleed per side. Ink that prints beyond the trim edge of the page to ensure it extends to the edge of the page after trimming.
Bleed and crop marks are configurable when exporting your files (Illustrator and Indesign).
HIGH QUALITY PDF
During the export of your file from your creation software (InDesign, Illustrator, Photoshop, Gimp, etc...) we recommend that you use the "Optimal quality" option to create Adobe PDF documents for high quality prints and proofs. It must conform to PDF-X 4.
For your printing on paper the output colorimetric profile to be used for the range of coated paper (modern coated, graphic cardboard, premium coated, recycled coated, chrome coated, coated creativ paper) is the «ISOcoated v2_300.icc» and for printing on uncoated paper (white uncoated, bulk uncoated, color uncoated, digital uncoated, recycled digital uncoated, premium uncoated and uncoated creative paper), the «ISOuncoated.icc» must be used.
For your impressions on rigid or flexible media the output colorimetric profile to use is the «ISOcoated v2_300.icc»
If you have not done so, we will change the intent of rendering your file in the production stream.
ONE-SIDED FILE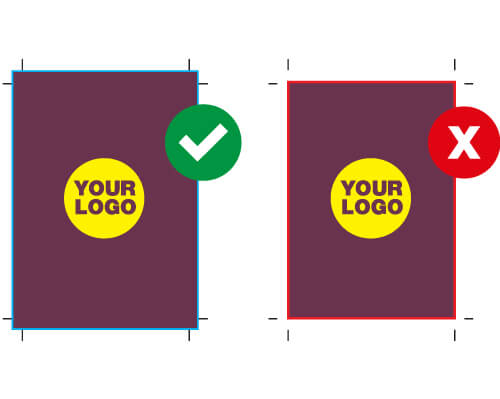 BOTH SIDE FILE
The size of the back must be identical to the front.