Back

Stickers

Stickers

Window stickers

Vehicle stickers

Paper Stickers

Magnet

Posters

Folded Posters

Fluorescent Posters

Small Posters

Large Posters

Urban posters

Hanging posters

Creative paper posters

Brochures

Piqué

Brochure piqûre bouclette

Bonded square back brochure

Wireo brochure

Folded brochure

Book

Cards

Business card

Postal card

Note cards

Greetings cards

Folded cards

Game cards

Plastic Cards

Folded leaflets

4 panels fold

Z fold

10 panels fold

12 panels fold

8 panels fold

14 panels folds

Folds combined

Flyers

Flyers

High-end flyers

Bookmark

Hanger flyer

Ballot

Stationery

Diaries

Notepad

Calendar

Folder with flaps

Binder

Letterhead

Reams paper

Envelopes

DL envelopes

C6 Envelopes

C5 Envelopes

C4 Envelopes

Square Envelopes

B5 and B6 Envelopes

B4 and E4 Envelopes

Signage

Correx®

Tarpaulin

Carboard

Dibond®

Foamex

Plexiglas®

POS

Beach flag

Lettering

Office (Coming soon)

Flag

Ground

Suitcase

Display unit

Goodies

Drinkware

Luggage

Office & writting

Business gift

Electro & USB

Goodies

Tote bag

Clothing

Accessories

Shirts

Pants

Polos

Sweaters

Sweatshirts

T-shirt

Jackets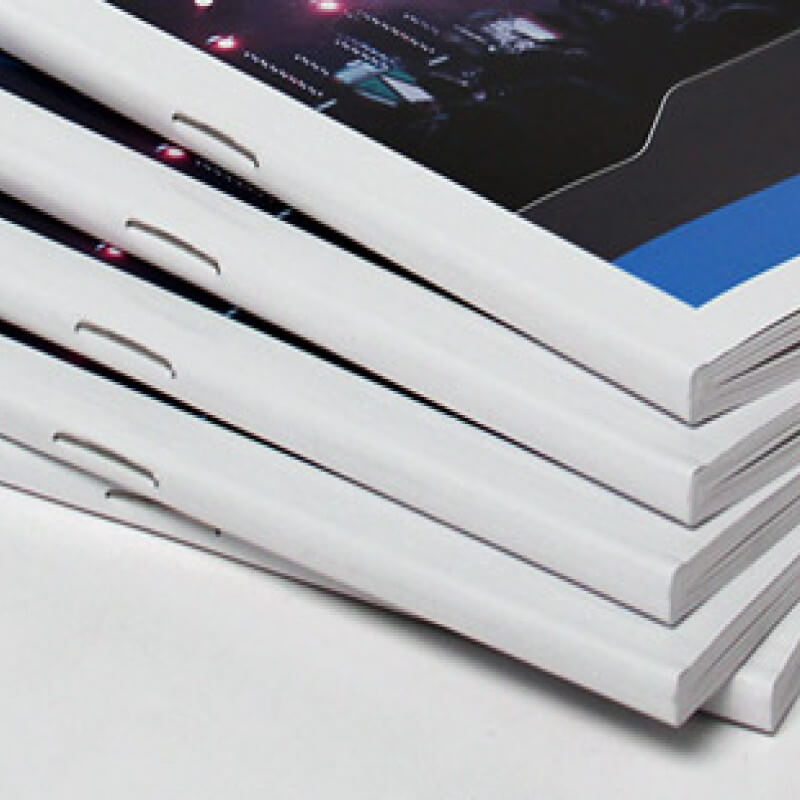  
Data sheet
Paper

Modern coated

Paper

Uncoated
Description
 > 
The best compromise between saddle stitch and square back booklet.
Need to print your A4 square back stapled booklet from 28 to 64 inner pages at the best price?
Do the right choice to print your A4 brochures, A4 activity reports, A4 brochures from 28 to 64 pages with square back binding 2 metal points. Add a level of sophistication and finishes to your business brochures, technical brochures, children's books and coloring books.
It gives magazines, annual reports and catalogs a level of professionalism that your customers will notice and appreciate. This type of binding allows you to make a presentation medium with or without a thick cover with inside pages. It is suitable for various presentation, training or commercial documents.
 > 
What are the characteristics of the stapled square back binding?
If the option of bonded square back binding has remained out of your choices due to cost, the solution of stitched square back binding is the answer to your needs. The stitched square-back pamphlet is the best compromise between the saddle stitch brochure and the glued-back pamphlet, providing an affordable solution with the improved look of a square back and stapled binding.
It is perfectly suitable for quantities ranging from 1ex to 500 copies. It can be printed on any paper weight. the number of inside pages can range from 28 pages to 68 pages. His printing process is digital only.
 > 
How to customize the printing of your stapled square back A4 booklet?
The Imprimeur du Roi has a multitude of options to quote as accurately as possible the best price for ordering and printing your A4 square back stapled booklet online.
Fill in the personalization tabs to calculate your quote online. Create your account and save your configuration.
Quantity : On demand, you choose the quantity to the nearest unit.
Finished format : The format is fixed for a finished size of 21x29.7 cm.
Cover : Check the box if you want to have a thick blanket.
Inner pages : From 28 to 64 inside pages, check the correct box.
Paper : Select the paper quality and weight.
Delivery : Select your country and your department or region.
Deadlines : 7 to 9 open days.
Origin : Printed in France.
 > 
How to prepare your art works to print your stapled square back A4 booklet?
Check out our advice pages to well create your .PDF files to be sent after payment of your order to print your A4 booklet.
Give a name to your printing project
A4 Square Saddle Stitch Booklet
We browse the best printing price for your A4 Square Saddle Stitch Booklet. The calculation can take several seconds.
Product customisation
Don't forget to save your customization to be able to add to cart