Back

Stickers

Stickers

Window stickers

Vehicle stickers

Paper Stickers

Magnet

Posters

Folded Posters

Fluorescent Posters

Small Posters

Large Posters

Urban posters

Hanging posters

Creative paper posters

Brochures

Piqué

Brochure piqûre bouclette

Bonded square back brochure

Wireo brochure

Folded brochure

Book

Cards

Business card

Postal card

Note cards

Greetings cards

Folded cards

Game cards

Plastic Cards

Folded leaflets

4 panels fold

Z fold

10 panels fold

12 panels fold

8 panels fold

14 panels folds

Folds combined

Flyers

Flyers

High-end flyers

Bookmark

Hanger flyer

Ballot

Stationery

Diaries

Notepad

Calendar

Folder with flaps

Binder

Letterhead

Reams paper

Envelopes

DL envelopes

C6 Envelopes

C5 Envelopes

C4 Envelopes

Square Envelopes

B5 and B6 Envelopes

B4 and E4 Envelopes

Signage

Correx®

Tarpaulin

Carboard

Dibond®

Foamex

Plexiglas®

POS

Beach flag

Lettering

Office (Coming soon)

Flag

Ground

Suitcase

Display unit

Goodies

Drinkware

Luggage

Office & writting

Business gift

Electro & USB

Goodies

Tote bag

Clothing

Accessories

Shirts

Pants

Polos

Sweaters

Sweatshirts

T-shirt

Jackets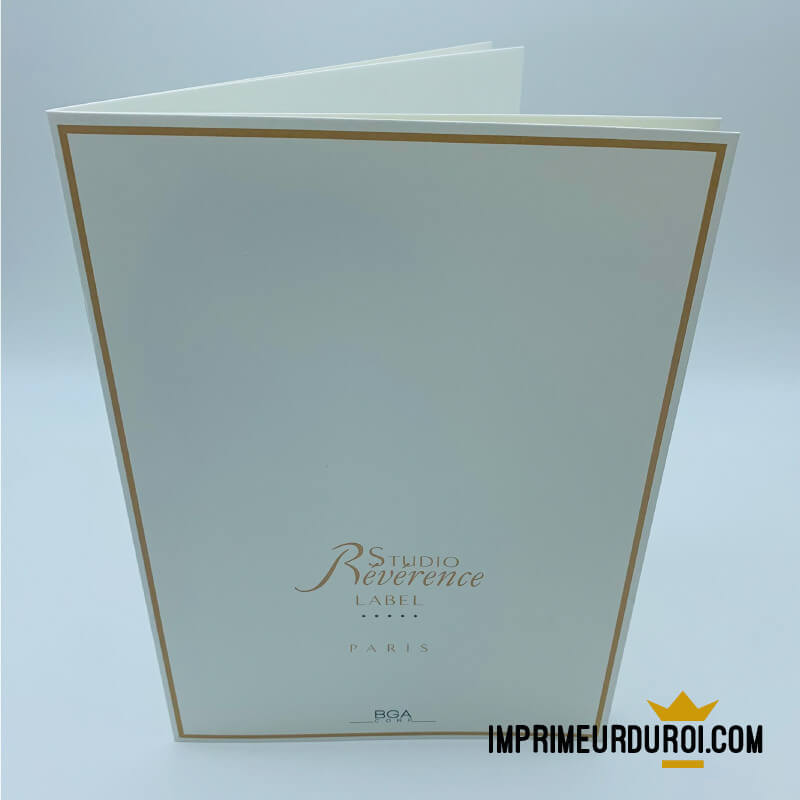  
Description
 > 
Your premium stapled booklet printed on munken range paper for a natural and authenticity look!
You are looking for booklet printing on Muken range paper?
you want to print stapled brochure from 8 to 64 inner pages on premium bulk paper?

The Munken papers are high-quality uncoated fine papers. They are ideal for businesses that want to have premium media.
Munken paper is suitable for printing premium booklets, advertising brochures, welcome guides, activity reports, etc.
Individually, in small quantities or in large volumes, we print online all your stapled brochure on Munken paper range with or without cover.
Brows your printing options to get the best price to print online premium stapled brochures on Munken paper.
 > 
What Munken papers are available for printing your stapled brochures?
The Imprimeur du Roi gives you the choice of printing your brochures on a wide selection of Munken range papers and weights to make them unique.
Munken Lynx
The uncoated smooth surface of Munken Lynx and its natural white shade make images genuine and gives an exclusive and yet very true natural paper feel.
Recognizable by its soft and silky feel, Munken Lynx is ideal for high-end prints.
It is available in weights of 80g, 90g, 150g and 300g / m².
Munken Polar
The uncoated smooth surface of Munken Polar and its crispy white shade enhances images and has an exclusive, yet very natural feel.
Recognizable by its soft, silky feel, Munken Polar is ideal for high-end prints, such as four-color books, catalogs, corporate communications as well as direct marketing.
Sa surface lisse lui procure une très bonne imprimabilité.
It is available in weights 115g, 130g, 150g, 200g and 250g / m².
Munken Print White 1.5 et 1.8
Munken Print White is the best possible paper for book publishing.
By combining the most interesting properties of papers with wood and without wood, we obtain a hand, a resistance, a surface, a comfort to the reading and printability optimized for books.
The result is a high-end puff paper of natural whiteness whose feel and rigidity are suitable for all types of books, in black and / or four-color printing.
 > 
How to print your stapled brochures online on Munken paper?
Set up the online printing of your stapled brochures on Munken paper using the customization tabs.
Quantity : On demande
Printing size : Custom
Hard cover : Option
Inner pages : from 8 to 60 pages
Paper weight : On-demand
Printing process : Digital or Offset
Deadlines: 7 to 10 open days
Origin: Printed en France

 > 
How to design your print ready PDF?
Check out our 7 checkpoints for a good preparation of your .PDF files to be transmitted after validation of your order.
Our prepress services ensure, free of charge, that your pdf files uploaded fit perfectly to the order placed and adapted to our production tools.
Give a name to your printing project
Munken brochure
Instant quote calculation for Munken stapled booklet printing, please wait
Product customisation
Don't forget to save your customization to be able to add to cart
You might also like