Back

Stickers

Stickers

Window stickers

Vehicle stickers

Paper Stickers

Magnet

Posters

Folded Posters

Fluorescent Posters

Small Posters

Large Posters

Urban posters

Hanging posters

Creative paper posters

Brochures

Piqué

Brochure piqûre bouclette

Bonded square back brochure

Wireo brochure

Folded brochure

Book

Cards

Business card

Postal card

Note cards

Greetings cards

Folded cards

Game cards

Plastic Cards

Folded leaflets

4 panels fold

Z fold

10 panels fold

12 panels fold

8 panels fold

14 panels folds

Folds combined

Flyers

Flyers

High-end flyers

Bookmark

Hanger flyer

Ballot

Stationery

Diaries

Notepad

Calendar

Folder with flaps

Binder

Letterhead

Reams paper

Envelopes

DL envelopes

C6 Envelopes

C5 Envelopes

C4 Envelopes

Square Envelopes

B5 and B6 Envelopes

B4 and E4 Envelopes

Signage

Correx®

Tarpaulin

Carboard

Dibond®

Foamex

Plexiglas®

POS

Beach flag

Lettering

Office (Coming soon)

Flag

Ground

Suitcase

Display unit

Goodies

Drinkware

Luggage

Office & writting

Business gift

Electro & USB

Goodies

Tote bag

Clothing

Accessories

Shirts

Pants

Polos

Sweaters

Sweatshirts

T-shirt

Jackets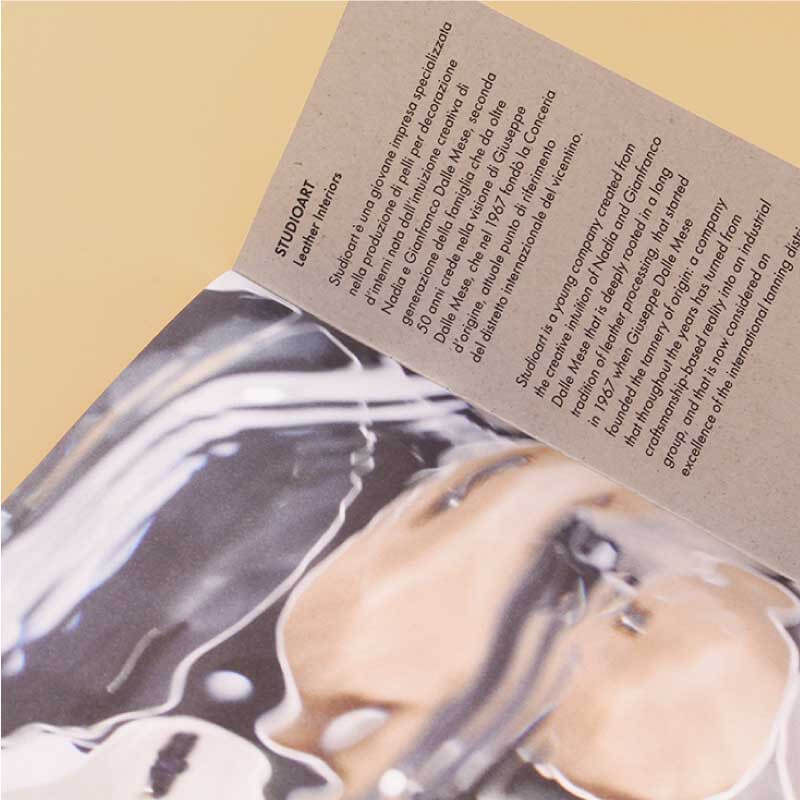  
Description
>
The printer of leaflets on recycled leather paper Remake!
Do you want to print eco-friendly half-fold cards, tri-fold leaflet, Z-fold brochure, accordion fold brochure or gate fold on Remake paper?
Revolutionary paper, uncoated, biodegradable and recyclable, containing fibers obtained from leather transformation processes, Remake paper is part of the "Up Cycling" trend.
The leather inclusions that appear on the surface will give your flyers a characteristic look, a very soft and incredibly velvety tactile effect.
This paper is made of 25% co-products from the leather goods industry, 30% post-consumer recycled fiber and 45% virgin fiber.
In true Italian papermaker Favini style, Remake is produced and designed with creativity and respect for the environment using an environmentally friendly manufacturing process designed with 100% green energy that is far more advanced than standard recycling processes.
>
Which folds to choose for printing your flyers on Remake paper?
Remake Half-fold
Leaflet folded in 2 with a central fold. 4 panels for a simple and direct opening effect. The most common for folded cards.
Remake Tri-fold
Leaflet folded in 2 panels or 6 pages which opens like a menu and which folds in on itself to make only a third of its size once closed.
Remake Z-fold
A Z-fold is a document folding method that uses two parallel folds to create six panels of equal size – three panels on each side of the paper.
Remake 3-panel Gate fold
Gate fold brochure is a three-panel print that has two opposite sides folded to meet at the center. The folded size is wider than a standard tri-fold brochure and the paper opening provides a more creative effect on your design.
Remake Roll-fold
This is when the flap panel is folded in a 'rolling' over manner to close the document, if you look at the profile edge then you'll see the document is almost in a roll shape.
Remake 4-panel accordion fold
Like Z-fold, the accordion fold divides paper material into a four panel design.
Remake Double Gate fold
A double-gate fold brochure is constructed by folding sheet of paper on each side, creating two side panels that open like doors or gates, and then folding the sheet in half.
>
What are the Remake paper references available to print your flyers online?
The L'Imprimeur Du Roi offers you the largest choice of Remake paper references to print your flyers.
In the support tab, select your paper weight and color or brand.
To return to the initial values, deselect the color and the mark.
Remake Autumn 250gr, 380gr (Brown = Marron)
Remake Midnight 250gr, 380gr (Black = Noir)
Remake Oyster 250gr, 380gr (Cream = Crème)
Remake Sand 250gr, 380gr (Beige)
Remake Sky 250gr, 380gr (Blue = Bleu)
Remake Smoke 250gr, 380gr (Grey = Gris)
>
How to send your flyer files to be printed on Remake paper?
The files that you will send us to download after validation of your order will be saved in ".PDF".
Our prepress services make sure that the files transmitted correspond perfectly to the order placed and are adapted to our production tools. Please take note of our different control points in order to process your order as soon as possible.
The production time in working days announced as an indication is after validation of your proof.
Give a name to your printing project
Remake Folded Leaflet
Get your instant quote at the best price for online custom printing of flyers on recycled leather Remake paper.
Product customisation
Don't forget to save your customization to be able to add to cart