Back

Stickers

Stickers

Window stickers

Vehicle stickers

Paper Stickers

Magnet

Posters

Folded Posters

Fluorescent Posters

Small Posters

Large Posters

Urban posters

Hanging posters

Creative paper posters

Brochures

Piqué

Brochure piqûre bouclette

Bonded square back brochure

Wireo brochure

Folded brochure

Book

Cards

Business card

Postal card

Note cards

Greetings cards

Folded cards

Game cards

Plastic Cards

Folded leaflets

4 panels fold

Z fold

10 panels fold

12 panels fold

8 panels fold

14 panels folds

Folds combined

Flyers

Flyers

High-end flyers

Bookmark

Hanger flyer

Ballot

Stationery

Diaries

Notepad

Calendar

Folder with flaps

Binder

Letterhead

Reams paper

Envelopes

DL envelopes

C6 Envelopes

C5 Envelopes

C4 Envelopes

Square Envelopes

B5 and B6 Envelopes

B4 and E4 Envelopes

Signage

Correx®

Tarpaulin

Carboard

Dibond®

Foamex

Plexiglas®

POS

Beach flag

Lettering

Office (Coming soon)

Flag

Ground

Suitcase

Display unit

Goodies

Drinkware

Luggage

Office & writting

Business gift

Electro & USB

Goodies

Tote bag

Clothing

Accessories

Shirts

Pants

Polos

Sweaters

Sweatshirts

T-shirt

Jackets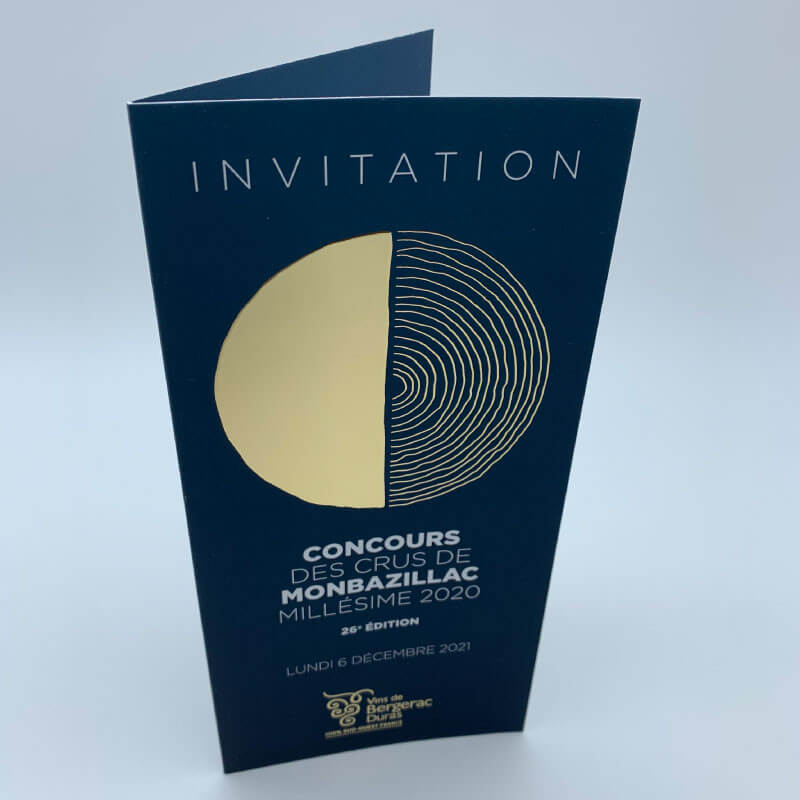  
Data sheet
Paper

Modern coated

Paper

Textured paper

Paper

Graphical boards
Description
>
The online printer of folded leaflet with hot foil finishing for a luxurious look!
Set up the online printing of your 4 panels, 6 panels or 8 panels flyers, single fold, Z fold, rolled fold, gate fold or double parallel fold with hot stamping finishing.
Order unique printed correspondence cards, flyers, product labels, greeting cards, invitation cards, restaurant menus and wedding or birth announcements with a hot foil finishing.
Showcase your logo, name, surname, text, contact details, geometrical figures and graphic elements (line, curve, drawing, picto) by applying a gold plating as an additional layer after printing.
Thanks to the hot foil, you can highlight and emphasise the information you consider important on your leaflets and thus surprise the reader when he opens the document.
Hot foil will add relief and shine to your flyers while attracting the eye to specific areas, with the added bonus of a very luxurious look.
In addition to foil stamping, you can combine matte lamination, gloss lamination or soft-touch lamination for a low price to give your foil-finished cards extra protection, rigidity and longevity.
Thanks to our printing process, we can offer you different finishes and 12 shades of hot foil colours on the front and/or back to get an optimal result.
>
Which paper should you choose for your folded leaflet with hot foil finishing?
To brand your company, your customers, your guests or your correspondents, we have selected a range of classic, premium and textured coated paper suitable for lamination and gilding.
Classic coated paper 350gr
Coated Mat = Couche mat: For

high mattness

, it offers an exceptional bulk.
Premium coated paper 350g
Solid Bleach Board = Carte couche 2 faces GZ: Thick,

rigid graphic board

with a smooth, glossy surface on both sides.
Textured paper 320gr
Rive Tradition Bright White = Rive tradition Extra blanc: Rives Tradition carries a subtle, refined, feltmarked finish.
>
How to choose the hot foil colour for your folded leaflet?
The colour of the hot foil selected will be named in the name of your file or transmitted by message when you place your order.
12 shade of hot foil are available to make all your folded leaflet.
In the box gilding front and/or back, 3 versions of gilding are proposed:
Gold hot foil
Silver hot foil
Bright Silver.
Matt Silver
Other hot foilm colors
Copper Gold
Pink Gold
Purple Gold
Red Gold
Blue Gold
Green Gold
Rainbow Hologram gold
Hologram with dots gold
You can find a visual of all the gilding shades by clicking on the link at the bottom of the page "Designing a hot foil".
>
How to send your files for printing and finishing?

The files you send us will be saved as ".PDF" in CMYK with crop marks, 5mm bleed and a 5th colour overprint which specifies the location of the hot foil. They will be downloaded after validation of your payment.
Our prepress services ensure free of charge that the files sent with your order correspond perfectly to the order placed and are adapted to our production tools.
Please see below for the various control points carried out on your files in order to process your order as quickly as possible.
Give a name to your printing project
Hot foil folded leaflet
Get your instant quote calculation for cutom folded leaflet with hot foil finishing.
Product customisation
Don't forget to save your customization to be able to add to cart