Back

Stickers

Stickers

Window stickers

Vehicle stickers

Paper Stickers

Magnet

Posters

Folded Posters

Fluorescent Posters

Small Posters

Large Posters

Urban posters

Hanging posters

Creative paper posters

Brochures

Piqué

Brochure piqûre bouclette

Bonded square back brochure

Wireo brochure

Folded brochure

Book

Cards

Business card

Postal card

Note cards

Greetings cards

Folded cards

Game cards

Plastic Cards

Folded leaflets

4 panels fold

Z fold

10 panels fold

12 panels fold

8 panels fold

14 panels folds

Folds combined

Flyers

Flyers

High-end flyers

Bookmark

Hanger flyer

Ballot

Stationery

Diaries

Notepad

Calendar

Folder with flaps

Binder

Letterhead

Reams paper

Envelopes

DL envelopes

C6 Envelopes

C5 Envelopes

C4 Envelopes

Square Envelopes

B5 and B6 Envelopes

B4 and E4 Envelopes

Signage

Correx®

Tarpaulin

Carboard

Dibond®

Foamex

Plexiglas®

POS

Beach flag

Lettering

Office (Coming soon)

Flag

Ground

Suitcase

Display unit

Goodies

Drinkware

Luggage

Office & writting

Business gift

Electro & USB

Goodies

Tote bag

Clothing

Accessories

Shirts

Pants

Polos

Sweaters

Sweatshirts

T-shirt

Jackets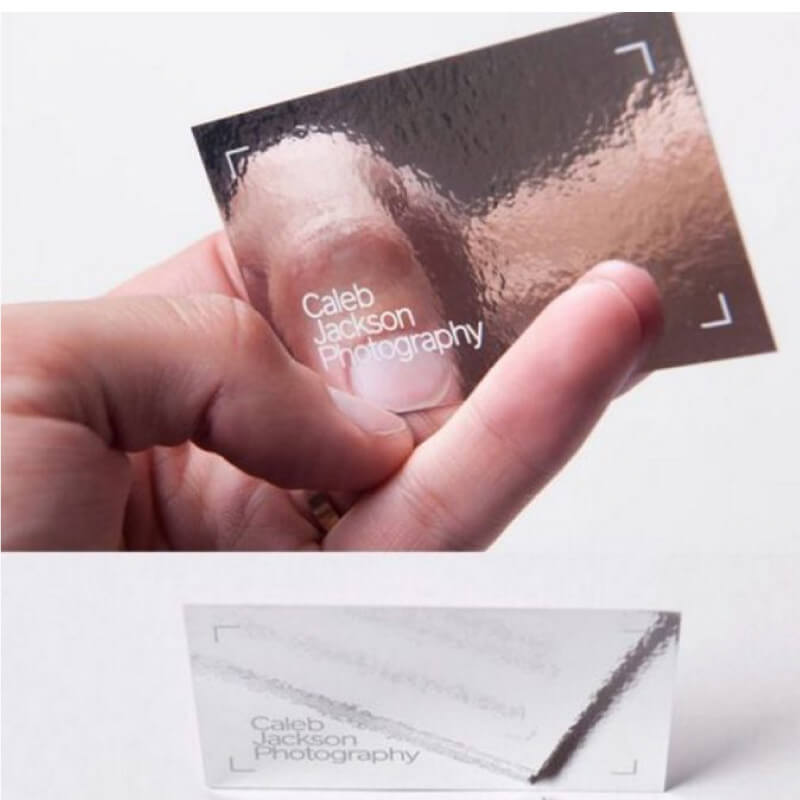  
Description
 > 
Dare the mirror effect for your folded leaflet!
Do you want to print business cards, note cards on Splendorlux Mirror paper ?
Splendorlux Mirro paper is a chrome coated paper with 1 ultra glossy side and 1 matt side. Manufactured and distributed by the Italian paper maker Fedrigoni, available in 4 shades, FSC® certified, it is made of ECF (elementary chlorine free) pulp containing a little CTMP (Chemi Thermo-mechanical Pulping) fibers to give resistance and l thickness to the paper. The glossy side is coated with a metallic polyester film treated to ensure good offset printing with UV series inks and the reverse side is very lightly coated for easier writing. Black, full color, spot color white or pantone, free your creative mind to print online to measure your business cards, postcards, square cards, note cards, greeting cards on paper with mirror effect.
 > 
What are the Splendorlux Mirror color references available?
The Imprimeur Du Roi is the only online printer to offer you one of the 4 shades available in the Splendorlux Mirror range.
Splendorlux Mirror Argento (Argent = Silver)
Splendorlux Mirror Bronzo (Bronze)
Splendorlux Mirror Ferro (Gris = Grey)
Splendorlux Mirror Oro (Or = Gold)
 > 
How are your cards and boxes printed on Splendorlux Mirror paper?
Its drying time after printing can vary from 8 to 10 hours to exceed 24 hours.
Quantity: On demand
Printing format: Custom
Printing process: Offset press
File to provide: .PDF
Deadlines: 7 to 9 working days
Origin: Printed in France
 > 
How to design your files to print your cards on Splendorlux Mirror?
Check out our checkpoints for a well preparation of .PDF files to send after validation of your order. Our prepress services ensure free of charge that the files transmitted correspond perfectly to the order placed and adapted to our production tools to print online your business cards and correspondence cards on Fedrigoni Splendorlux Mirror paper.
Give a name to your printing project
Splendorlux Mirror folded leaflet
Instant quote calculation of your configuration to print your cards and cardboards on Splendorlux Mirror paper.
Product customisation
Don't forget to save your customization to be able to add to cart