Back

Stickers

Stickers

Window stickers

Vehicle stickers

Paper Stickers

Magnet

Posters

Folded Posters

Fluorescent Posters

Small Posters

Large Posters

Urban posters

Hanging posters

Creative paper posters

Brochures

Piqué

Brochure piqûre bouclette

Bonded square back brochure

Wireo brochure

Folded brochure

Book

Cards

Business card

Postal card

Note cards

Greetings cards

Folded cards

Game cards

Folded leaflets

4 panels fold

6 panels fold

10 panels fold

12 panels fold

8 panels fold

14 panels folds

Folds combined

Flyers

Flyers

High-end flyers

Bookmark

Hanger flyer

Ballot

Stationery

Letterhead

Folder with flaps

Notepad

Reams paper

Calendar

Binder

Diaries

Signage

Tarpaulin

Dibond®

Plexiglas®

Correx®

Foamex

Carboard

POS

Office (Coming soon)

Flag

Beach flag

Ground

Lettering

Suitcase

Goodies

Drinkware

Electro & USB

Office & writting

Business gift

Goodies

Luggage

Clothing

Pants

Jackets

Sweaters

Shirts

Polos

Sweatshirts

T-shirt

Accessories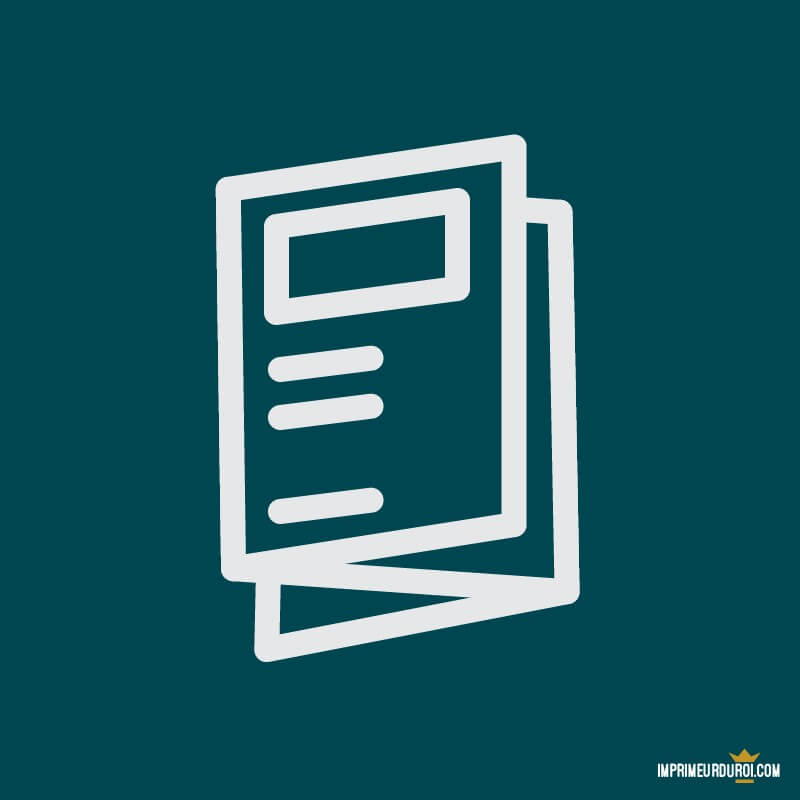  
#dépliant #fold #accordion #Z
Data sheet
Paper

Modern coated

Paper

Recycled uncoated

Paper

Classic uncoated

Paper

Recycled coated
Description
 > 
The custom printing of leaflets folded in Z!
The Imprimeur du Roi specializes in the personalized printing of Z-fold leaflets by offering total control over the choice of papers and its finishes.
The Z-fold leaflet offers a printable surface equivalent to 6 pages or 3 panels that fold on themselves in Z.
Easy-to-use communication and presentation tool, the Z-fold leaflet is visual, simple and aimed at a wide audience. The Z fold is a suitable support for making commercial leaflets, advertising leaflets, restaurant menus, flyers or greeting cards.
The folding of your Z fold is automatically fixed. Beyond 170gsm a creasing is automatically carried out to facilitate the folding of your leaflet. To store easily your Z fold over 170gsm, you have the choice of having them delivered in flat film.
 > 
Which paper to choose for your Z fold leaflets?
The Imprimeur du Roi offers you the widest choice of coated, uncoated and recycled paper references to print.
Couche brillant = Coated gloss
Coated gloss is a paper with a shiny (glossy) surface giving your communication more sparkles.
Couche demi-mat = Coated silk
Paper with a satin surface, very pleasant to the touch. As for the coated matt, it is a refined paper.
Couche mat = Coated Matt
Paper with higher rigidity and bulk, its matt surface offers high opacity.
Offset = Uncoated
Basic paper called "office paper". The surface of the uncoated paper is porous, evoking the look and feel of wood.
Recycle = Recycled
Recycled coated or uncoated paper are made from 100% post consumer recycled fibers.
 > 
How to customize the printing of your Z fold leaflets?
The Imprimeur Du Roi assures you quality and professionalism thanks to the digital and offset printing and finishing capacity of its production workshops.
Do your quote online by browsing the Z-fold printing configurator.
Quantity : On demand

Finished size : Custom

Printing process : Digital or Offset

Finishing process : Digital

Files to provide: .PDF
Deadlines: 7 to 10 open days

Order online your Z-fold printing by creating your user account.
Follow the processing of your order from your customer account.
 > 
How to make a PDF print ready for Z-fold printing?

Check out our advice pages to make your .PDF files ready to be sent after payment of your order to print your Z-fold leaflet.
Give a name to your printing project
Z folds
We quote the best price for your Z fold printing. The calculation can take several seconds.