Back

Stickers

Stickers

Window stickers

Vehicle stickers

Paper Stickers

Magnet

Posters

Folded Posters

Fluorescent Posters

Small Posters

Large Posters

Urban posters

Hanging posters

Creative paper posters

Brochures

Piqué

Brochure piqûre bouclette

Bonded square back brochure

Wireo brochure

Folded brochure

Book

Cards

Business card

Postal card

Note cards

Greetings cards

Folded cards

Game cards

Folded leaflets

4 panels fold

Z fold

10 panels fold

12 panels fold

8 panels fold

14 panels folds

Folds combined

Flyers

Flyers

High-end flyers

Bookmark

Hanger flyer

Ballot

Stationery

Diaries

Notepad

Calendar

Folder with flaps

Binder

Letterhead

Reams paper

Signage

Correx®

Tarpaulin

Carboard

Dibond®

Foamex

Plexiglas®

POS

Beach flag

Lettering

Office (Coming soon)

Flag

Ground

Suitcase

Display unit

Goodies

Drinkware

Luggage

Office & writting

Business gift

Electro & USB

Goodies

Tote bag

Clothing

Accessories

Shirts

Pants

Polos

Sweaters

Sweatshirts

T-shirt

Jackets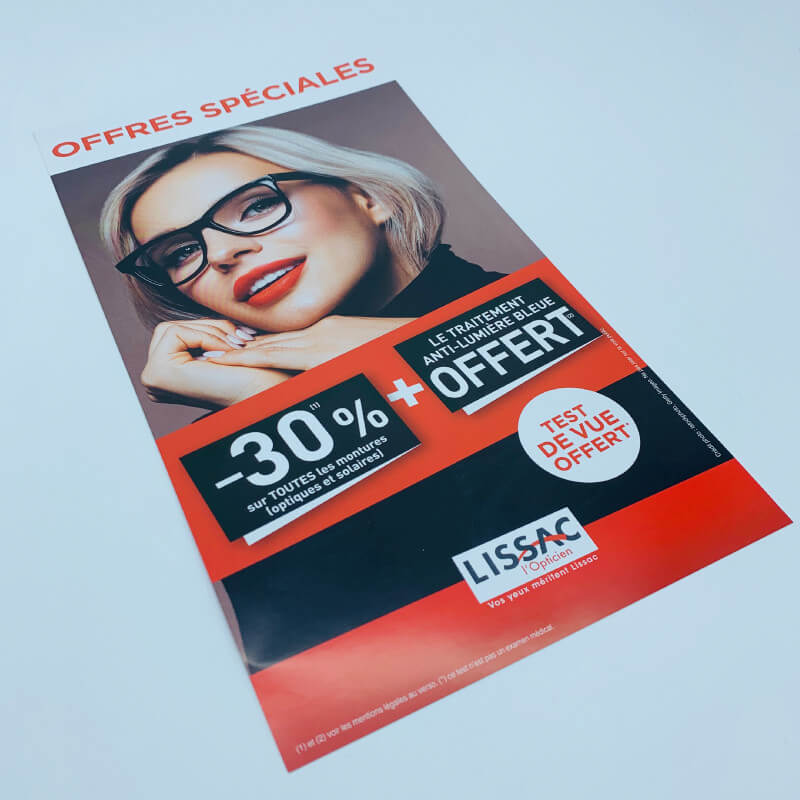  
#feuillet #sheet #discount
Data sheet
Paper

Modern coated

Paper

Uncoated
Description
How to print your flyer at the best price?
Do you want to print low cost advertising flyers?
Do you want to print flyers on one or both sides?
Coated gloss, silk, matt or uncoated, which paper to choose for your flyers?
The custom flyer printing calculator is made for you.
The flyers are ideal for companies, associations, communities and universities.
By unit, small quantity or in large volume, one or extra copies, we offer you the possibility of printing your flyers.
Playing on the options will allow you to get the cheapest flyer that corresponds to your project to print online unique flyers to your image.
Do your online flyer quote easily using the calculator and get your price.
Choose quantity, extra models, size, front and/or back printing, paper, weight and delivery of your flyers.
Order your custom flyers online by creating your user acompte.
Follow your order from your dashboard.
What size are available for your flyers?
Portrait or landscape, we have the ideal format for printing your flyers.
Flyer 5.5x21 : ⅓A5 bookmark size.
Flyer 9.9x21 : DL envelope size.
Flyer 10.5x14.8 : A6 postcard size.
Flyer 10.5x29.7 : ½A4 the medium size of A4 sheet.
Flyer 12.5x17.6 : B6 prospectus size.
Flyer 14.8x14.8 : Middle square size.
Flyer 14.8x21 : A5 The most common size.
Flyer 14.8x29.7 : ⅔A4 the original size.
Flyer 17.6x25 : B6 the mailing size.
Flyer 21x21 : Large square size.
Flyer 21x29.7 : A4 the most requested size.
Which paper to choose to print your flyers?
L'Imprimeur du Roi guarantees you a selection of quality paper and the online largest choice of weight and paper to print your flyers and make them unique.
Couche brillant = Coated gloss
Coated gloss is a paper with a shiny (glossy) surface giving your communication more sparkles.
Couche demi-mat = Coated silk
Paper with a satin surface, very pleasant to the touch. As for the coated matt, it is a refined paper.
Couche mat = Coated Matt
Paper with higher rigidity and bulk, its matt surface offers high opacity.
Offset = Uncoated
Basic paper called "office paper". The surface of the uncoated paper is porous, evoking the look and feel of wood.
How are your custom flyer printed?
L'Imprimeur Du Roi garantee high-quality, full-color flyers printed.
Quantity : On-demand
Finished size : Custom
Paper quality : Coated or Uncoated
Printing process : Digital or Offset
Files to provide : .PDF
Deadlines : 5 to 7 open days
Origin : Printed in France
 + 

Artworks guideline



Check out our guide for a good preparation of your .PDF files to send to your order to print your flyers.
Give a name to your printing project
Economic flyer
Instant quote calculation for custom online printing cheap and high quality flyer.