Back

Stickers

Stickers

Window stickers

Vehicle stickers

Paper Stickers

Magnet

Posters

Folded Posters

Fluorescent Posters

Small Posters

Large Posters

Urban posters

Hanging posters

Creative paper posters

Brochures

Piqué

Brochure piqûre bouclette

Bonded square back brochure

Wireo brochure

Folded brochure

Book

Cards

Business card

Postal card

Note cards

Greetings cards

Folded cards

Game cards

Plastic Cards

Folded leaflets

4 panels fold

Z fold

10 panels fold

12 panels fold

8 panels fold

14 panels folds

Folds combined

Flyers

Flyers

High-end flyers

Bookmark

Hanger flyer

Ballot

Stationery

Diaries

Notepad

Calendar

Folder with flaps

Binder

Letterhead

Reams paper

Envelopes

DL envelopes

C6 Envelopes

C5 Envelopes

C4 Envelopes

Square Envelopes

B5 and B6 Envelopes

B4 and E4 Envelopes

Signage

Correx®

Tarpaulin

Carboard

Dibond®

Foamex

Plexiglas®

POS

Beach flag

Lettering

Office (Coming soon)

Flag

Ground

Suitcase

Display unit

Goodies

Drinkware

Luggage

Office & writting

Business gift

Electro & USB

Goodies

Tote bag

Clothing

Accessories

Shirts

Pants

Polos

Sweaters

Sweatshirts

T-shirt

Jackets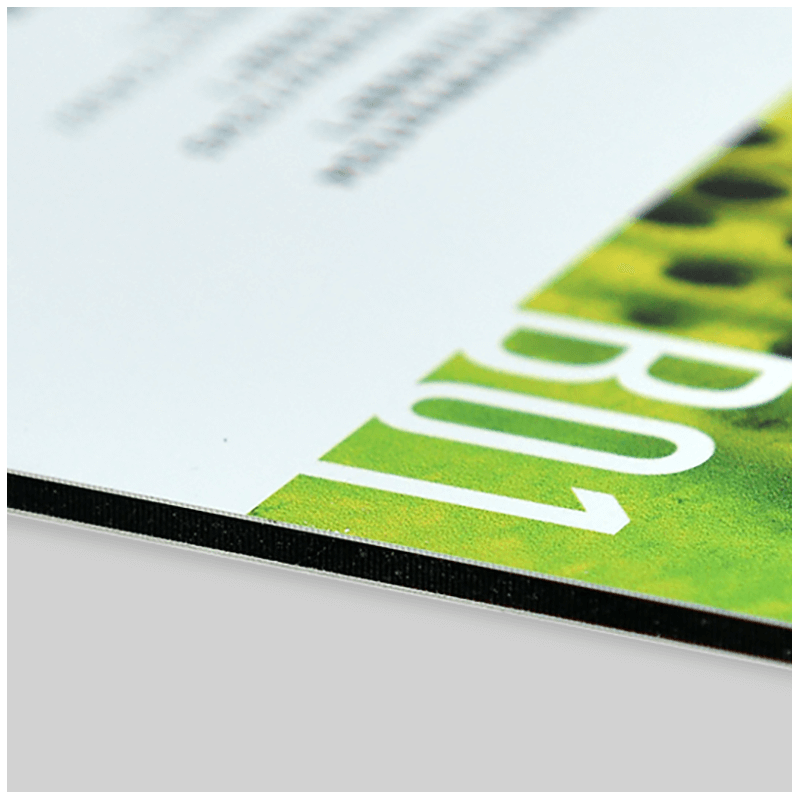  
Description
>
The Printer of custom 3mm white dibond® aluminium panels
Order the online printing on 3mm dibond panels at the best price.
The dibond® panel is made of 2 white aluminium plates on the outside and a black polyethylene core on the inside.
Stainless and rot-proof, it is widely used for its rigidity, corrosion resistance, lightness and stability over time.
The online printing on 3 mm white dibond® panels is ideal for interior decoration or exterior signage.
3mm dibond® interior design
Printing of art photographs and decorative paintings for art exhibitions, galleries, museums, building reception areas and show rooms.
Internal signage in shops or offices (evacuation plan, signposting, safety, reception, nameplate...).
3mm dibond® outdoor signs
Aluminium composite advertising and directional signs, signposting, directions.
Façade signage for advertising on building sites.
Promotional signage for billboards.
Cladding of shop fronts and shops as signs.
>
How get your instant quote for printing on 3mm dibond® panels at the best price?
Thanks to our online printing configurator for single or double-sided printing on 3mm dibond® panels, the possibilities are endless.
In real time, it show the description of your configuration, price, quantity, format, weight of the copy, the printing colours, the support, the packaging, the delivery department, the total weight and the production time after validation of the proof.
Quantity and additional templates
Fill in the quantity of 3mm dibond® panel you require.
Use the additional templates option if you have different visuals.
These templates can be of the same quantity, of different quantities or of the same quantity and assembled to make batches of several different graphics.
Varnish & Lamination
Choose an anti-UV matt lamination to give a matt appearance.
Choose an anti-UV glossy lamination to give a glossy finish.
Choose a Velleda lamination to write on the substrate with a Velleda dry erase marker.
Paper & Materials :
Your 3mm dibond® panels can be supplied with a 8.4mm diameter perforation with or without a satin silver screw spacer.
The holes are generally located 15-20mm from the edge of the panel
Add extra model of a different size to your quote.
This option at the top of the configurator allows you to add another reference from another template.
This adds to your first configuration the possibility of calculating other 3mm dibond® panels, either individually or as an amalgam of a different format.
>
How to send your files for printing on 3mm dibond® panels?
The file you send us after payment of your order will be saved as a ".PDF" file, to ensure the printing of your custom-made 3mm dibond sheets.
Our prepress services ensure, free of charge, that the files sent with your order correspond perfectly to the order placed and are adapted to our production tools.
Please note our control points for your files in order to process your order as quickly as possible
Give a name to your printing project
3 mm white aluminium board
Get your instant quote for the online printing on custom 3mm white aluminium board.