Back

Stickers

Stickers

Window stickers

Vehicle stickers

Paper Stickers

Magnet

Posters

Folded Posters

Fluorescent Posters

Small Posters

Large Posters

Urban posters

Hanging posters

Creative paper posters

Brochures

Piqué

Brochure piqûre bouclette

Bonded square back brochure

Wireo brochure

Folded brochure

Book

Cards

Business card

Postal card

Note cards

Greetings cards

Folded cards

Game cards

Plastic Cards

Folded leaflets

4 panels fold

Z fold

10 panels fold

12 panels fold

8 panels fold

14 panels folds

Folds combined

Flyers

Flyers

High-end flyers

Bookmark

Hanger flyer

Ballot

Stationery

Diaries

Notepad

Calendar

Folder with flaps

Binder

Letterhead

Reams paper

Envelopes

DL envelopes

C6 Envelopes

C5 Envelopes

C4 Envelopes

Square Envelopes

B5 and B6 Envelopes

B4 and E4 Envelopes

Signage

Correx®

Tarpaulin

Carboard

Dibond®

Foamex

Plexiglas®

POS

Beach flag

Lettering

Office (Coming soon)

Flag

Ground

Suitcase

Display unit

Goodies

Drinkware

Luggage

Office & writting

Business gift

Electro & USB

Goodies

Tote bag

Clothing

Accessories

Shirts

Pants

Polos

Sweaters

Sweatshirts

T-shirt

Jackets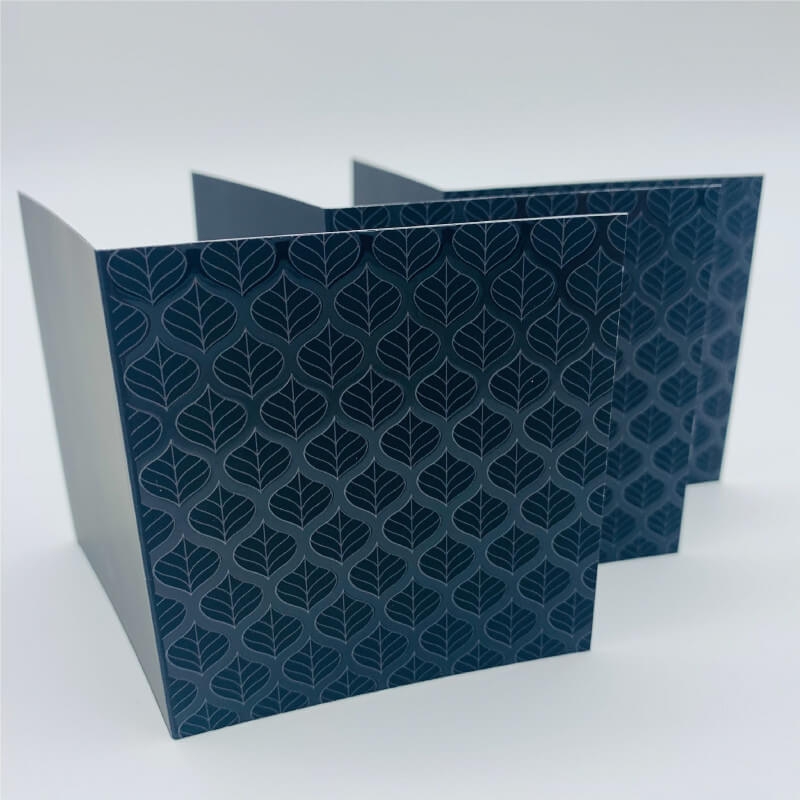  
#dépliant #fold #spotuv #3D
Data sheet
Paper

Graphical boards

Paper

Modern coated
Description
> 
Add a luxury touch to your folded leaflet with 3D spot gloss UV coating!
For the design and printing of your brochures, greeting cards, flyers, invitations cards, VIP cards, menus, the use of spot UV varnish or 3D spot UV coating will sublimate your content elements. This type of finish will bring a touch of luxury to your creations and your communication.
Do the right choice to print online with the Imprimeur Du Roi your single fold, Z fold, 2 roll fold or window fold flyers by selecting one of our 6 different finishes on one or both sides.
Thanks to our finishing options for printing your flyers, you can highlight specific areas with a spot uv coating or a 3D spot UV varnish on a text, an image or a logo and thus bring an added value and ROI.
Unlike the spot UV coating, the 3D spot UV coating allows to obtain relief for a pleasant touch.
Thus, the application of a selective varnish or a 3D varnish accompanied by a lamination will make you stand out and enhance the image of your company to your customers and prospects.
In addition, the combination of a matt lamination or a soft-touch lamination will protect the printing colors and strengthen the position of the 3D selective varnish.
 > 
What finishes are available for your folded leaflet?
Leaflet with spot gloss uv varnish finish.
The spot gloss UV coating has a thickness of 58 microns. It is the most economical finish.
Leaflet with 3D spot gloss uv varnish finish.
The 3D spot gloss UV varnish has a thickness of 101 microns. It is the thickest because it offers texture and matter.
Leaflet with lamination and 3D spot gloss UV coating.
Matt lamination is soft to the touch (felt close to peach skin) and reflects very little light. Thanks to this contrast, it will bring out the 3D selective varnish but it is more sensitive to scratches.
Soft touch lamination is thicker than matt lamination. It offers a peachy skin surface for a more velvety feel to the touch. Associated with a selective 3D varnish, it is the ultimate in finishes.
 > 
How to design your folded leaflet to print with spot gloss UV coating?
Check out our check points for a good preparation of your .PDF files to be transmitted after validation of your order. Our prepress services make sure, free of charge, that the files transmitted correspond perfectly to the order placed and are adapted to our production tools.
Give a name to your printing project
3D spot UV folded leaflet
Instant quote calculation of 3D spot UV folded leaflet printing.

Product customisation
Don't forget to save your customization to be able to add to cart