Back

Stickers

Stickers

Window stickers

Vehicle stickers

Paper Stickers

Magnet

Posters

Folded Posters

Fluorescent Posters

Small Posters

Large Posters

Urban posters

Hanging posters

Creative paper posters

Brochures

Piqué

Brochure piqûre bouclette

Bonded square back brochure

Wireo brochure

Folded brochure

Book

Cards

Business card

Postal card

Note cards

Greetings cards

Folded cards

Game cards

Plastic Cards

Folded leaflets

4 panels fold

Z fold

10 panels fold

12 panels fold

8 panels fold

14 panels folds

Folds combined

Flyers

Flyers

High-end flyers

Bookmark

Hanger flyer

Ballot

Stationery

Diaries

Notepad

Calendar

Folder with flaps

Binder

Letterhead

Reams paper

Envelopes

DL envelopes

C6 Envelopes

C5 Envelopes

C4 Envelopes

Square Envelopes

B5 and B6 Envelopes

B4 and E4 Envelopes

Signage

Correx®

Tarpaulin

Carboard

Dibond®

Foamex

Plexiglas®

POS

Beach flag

Lettering

Office (Coming soon)

Flag

Ground

Suitcase

Display unit

Goodies

Drinkware

Luggage

Office & writting

Business gift

Electro & USB

Goodies

Tote bag

Clothing

Accessories

Shirts

Pants

Polos

Sweaters

Sweatshirts

T-shirt

Jackets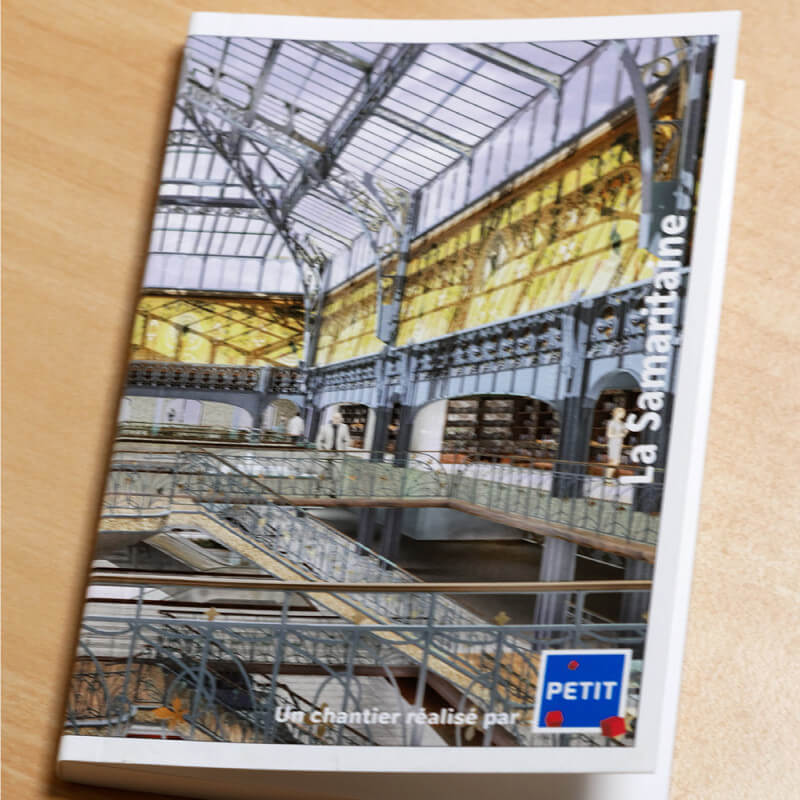  
Description
Why print your square back books on stone paper?
Do you want to print eco-responsible books? Do you want your books to be water resistant? Book printing on "stone sheets" is the solution for obtaining unique books that are resistant to water and time.
Stone paper can be used to print novels, cookbooks, photo books, notebooks or diaries. In addition to its eco-responsible aspect, sheets of stone paper or mineral paper are impermeable to water and grease, insects and fire. This mineral paper is compatible with food contact. Its use is ideal in humid environments.
Do easily your quotes online with our calculator and get your price.
Choose quantiy, finished dimension, cover, inner pages, printing, weight paper and country delivery.
Order the online printing of your books and be delivered as soon as possible thanks to our offset printing workshops.
What is stone paper?
The imprimeurduroi.com is the only printshop to get you the widest choice of paper weights to print your books on stone paper and make them unique and waterproof.
Stone paper
Distributed by Armen Paper, stone paper is a new material of mineral origin with unique environmental characteristics.
Its manufacture requires neither water nor wood. It is an innovative medium with many advantages. Mineral paper or stone paper was created in 1998 by a Taiwanese company.
The stone paper is made of 80% calcium powder. Calcium is found, among other things, in marble and chalk. Mixed with 20% polyethylene resin for the bond, we obtain an infinitely recyclable and biodegradable stone paper.
How are your waterproof book printed?
Quantiy : On-demande
Finished dimension : Custom

Printing process : Offset
Files to provider: .PDF
Deadlines: 7 to 10 open days

Origin: Printed in France

 + 

Artworks guidelines

Check out our advices for a good preparation of your .PDF files to be transmitted after validation of your order to print your book with stone paper.
Give a name to your printing project
Stone paper book
Instant quotes calculation for custom book printing on stone paper.
Product customisation
Don't forget to save your customization to be able to add to cart
You might also like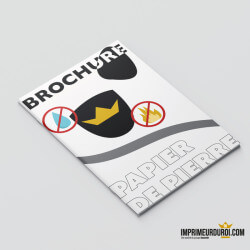 Price
€285.00
€631.20 1000 ex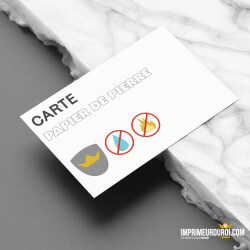 Price
€279.00
€0.45 1000 ex
Price
€217.00
€0.41 1000 ex