Back

Stickers

Stickers

Window stickers

Vehicle stickers

Paper Stickers

Magnet

Posters

Folded Posters

Fluorescent Posters

Small Posters

Large Posters

Urban posters

Hanging posters

Creative paper posters

Brochures

Piqué

Brochure piqûre bouclette

Bonded square back brochure

Wireo brochure

Folded brochure

Book

Cards

Business card

Postal card

Note cards

Greetings cards

Folded cards

Game cards

Plastic Cards

Folded leaflets

4 panels fold

Z fold

10 panels fold

12 panels fold

8 panels fold

14 panels folds

Folds combined

Flyers

Flyers

High-end flyers

Bookmark

Hanger flyer

Ballot

Stationery

Diaries

Notepad

Calendar

Folder with flaps

Binder

Letterhead

Reams paper

Envelopes

DL envelopes

C6 Envelopes

C5 Envelopes

C4 Envelopes

Square Envelopes

B5 and B6 Envelopes

B4 and E4 Envelopes

Signage

Correx®

Tarpaulin

Carboard

Dibond®

Foamex

Plexiglas®

POS

Beach flag

Lettering

Office (Coming soon)

Flag

Ground

Suitcase

Display unit

Goodies

Drinkware

Luggage

Office & writting

Business gift

Electro & USB

Goodies

Tote bag

Clothing

Accessories

Shirts

Pants

Polos

Sweaters

Sweatshirts

T-shirt

Jackets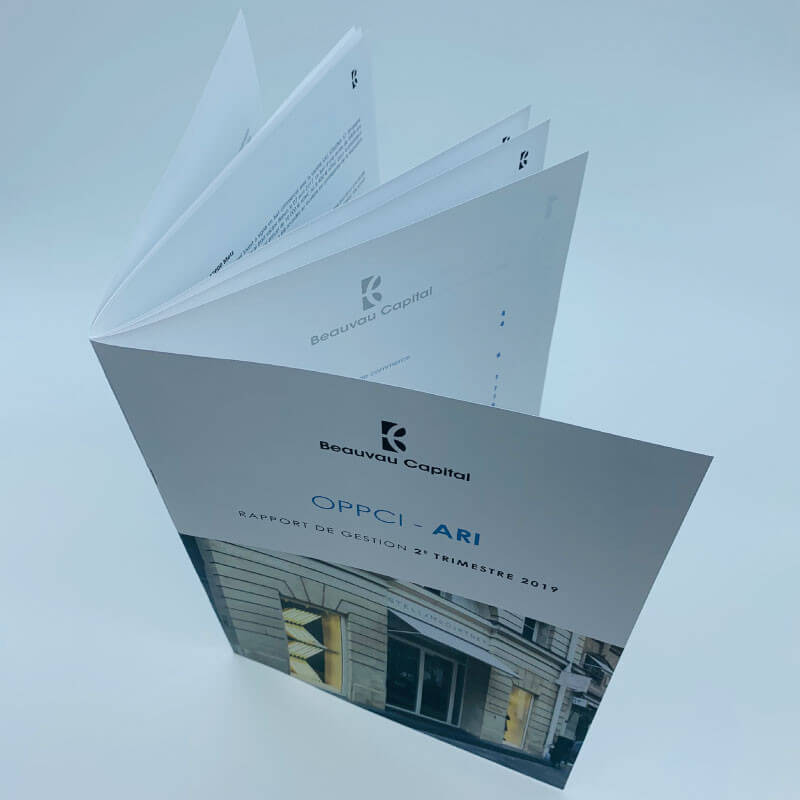  
Data sheet
Paper

Premium coated
Description
>
The online printer of your stapled brochures printed on Heaven 42 paper
Stapled brochures printed on Heaven 42 paper are ideal for customers who want to brand their products and services. When you communicate on Heaven 42 paper, you are choosing to communicate on a premium coated paper with a soft matt finish.
Heaven paper is suitable for printing booklets, advertising brochures, booklets, welcome guides, activity reports, etc.
Whether it's one-offs, small quantities or large volumes, we can print all your brochures stapled on Heaven paper with or without thick covers.
Set up your printing options and get your instant quote to get the best price for your project to print unique Heaven stapled brochures online in your image.
>
Why choose Heaven paper to print your premium stapled brochures online?
Heaven 115gr, 135gr, 150gr, 170gr, 200gr, 250gr, 300gr et 400g/m²
The Heaven paper was a real (r)evolution in the world of paper and it is however difficult to find equivalents.
Heaven is a premium white coated paper with an unrivalled soft surface and the distinction of being absolutely white (CIE 155).
Printing a stapled brochure on Heaven paper creates beautiful contrasts, very intense due to its purity and bright white colour.
This provides a perfect neutral base for beautiful projects (especially deep black overlays).
Its soft matt surface allows the ink to penetrate and dry quickly and ensures that your brochure has a comfortable grip
Let your imagination speak, express your creativity and make your customers' wishes come true by selecting one of the following finishes:
Glossy, Silk, Matt acrylic varnish
Glossy, Matt, Soft Touch polypro lamination
Gloss 3D spot UV
Gold, Silver or other Hoit Foil
>
How to design and send your stapled booklet files for printing?

The files you send us after validation of your order will be saved as ".PDF" files.
Our prepress services ensure free of charge that the files sent with your order correspond perfectly to the order placed and are adapted to our production tools.
Please take note of our various checkpoints in order to process your order as quickly as possible.
How to design your Gloss 3D spot UV?
Give a name to your printing project
Heaven 42 booklet
Get your instant price quote to order the online printing of staped booklet on Heaven 42 paper.
Product customisation
Don't forget to save your customization to be able to add to cart